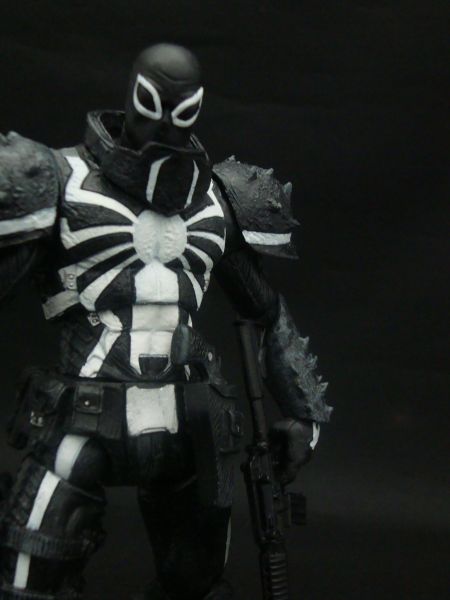 Hello everyone!
Today i bring to you in my opinion one of the coolest new(ish) characters that Marvel has produced, Agent Venom!

Since i thought that the official release that hasbro was releasing to walgreens looked like caca i thought the i'd save myself the hunt and the most likely disappointment/heartbreak and build a better version.
For this guy i pretty much ripped off my favorite customizer Raybot's version and fixed him pretty much the same way that he did. I shortened venom at the knees, ankles, waist, and forearm. I gave him a new neck and the double knee's and ankle rockers that i added on to him were from a Bucky Cap. His head was from casting cave (shout out to my buddy Gabes Customs for making it). His hands are from the Ultimate WWII Cap and his various guns are fodder or from casting cave. One blend and paint job later he was finished! Please notice in the last picture his near ML height, he's a little taller but thats ok since i think he should be a bigger character.


Oh and if you compare my pictures to raybot you may notice some similarities, what can i say? Copying is the highest form of flattery haha


Hope you all enjoy! I may make some symbiote accessories to this guy in the future so keep your eyes out!