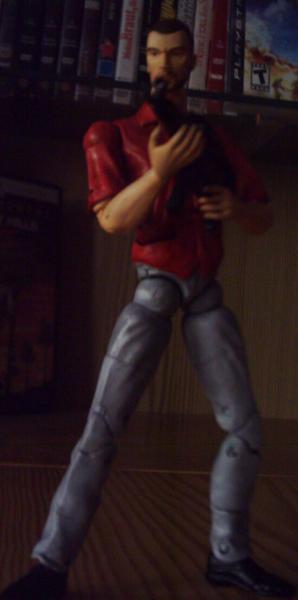 This started as a Danny Lamb for mh2, became a headless Daniel Craig figure because those pillocks from corgi won´t release Bond figures until June and then I just put a Marvel Legends Prof. X head on and painted a little and it started to look more and more like Niko.
Of course, the body got a bit bulky to atrocious, but silly me had no nice suits left and so I used the Prof. X legs, an Angel & Spike body, the hawaiian shirt and glued the sleeves from a Blade coat on them plus some grey.
Why the first pic is the head?
To show of my new head solution for lazy people like me.
Some wire formed into a sling and glued into the body, just put the head on and it fits perfect and moves like a real neck.
Time to go shoping and buy new suits for better clothes for Niko.
I can´t believe there aren´t any gta customs here! Angel and Spike bodys and X-Men heads, go make some and stop making Deadpools.