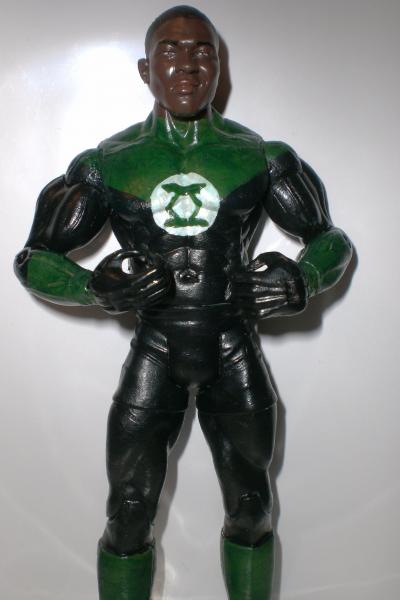 Back story: So I went out shopping today in hopes that I could find a few good figures for some nice customs. I didn't really have anything particular in mind, I was just planning on trying to pick one out that I could turn into a character from DC. I found a two pack of "WWE ADRENALINE" figures including Charlie Haas and Shelton Benjamin. I jumped at this because I thought I could turn Benjamin into a decent Green Lantern, and thats what I did.

Its really just a repaint of the Benjamin Shelton figure. This was my first time trying to do a dry wash. I used Model Masters "green pearl" to paint over the green I had put on earlier. I think it turned out alright.

Just like with the Starman figure, once I save up some more money I will try to find a cheap ML figure so I can replace the legs on this one so it will fit in scale with my other 6.0" figures.

I hope you all enjoy.