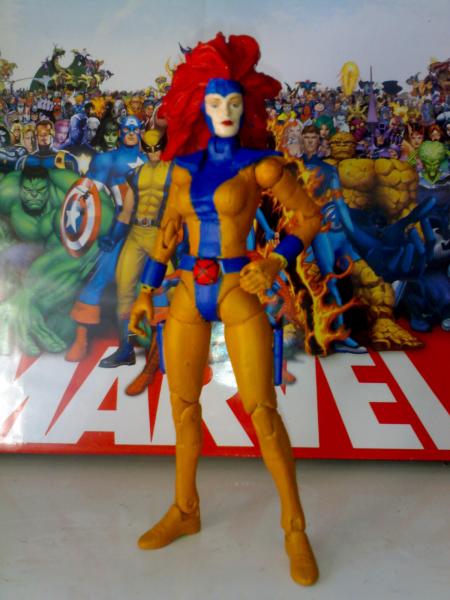 Custom Jean Grey 90's costume - This was easy to customize, although getting the mustard-like color was difficult, I'm color-blinded (no, I don't see everything as the Terminator-100 does) and the color was mixed by my wife. The recipe:
Body: Black Widow series 8
Hair: Storm series 8
Feet: Psylocke
Foamy sheets & some epoxy.

White oil-based primer first, then dry-brushed all in acryllic, added blue and that's it.

Custom Jean Grey traje 90's. Esta estuvo facil de hacer, aunque el color mostaza fue dificil de hacer, soy daltónico (no, no veo todo como el Depredador o algo asi) asi que mi esposa mezcló el color. La receta es:
Cuerpo: Black Widow serie 8
Cabello: Storm serie 8
Pies: Psylocke
Foamy y plastilina epoxica.

Primero un mano de color blanco en spray, despues una mano de acrilico y al final los detalles en azul y eso fue todo.