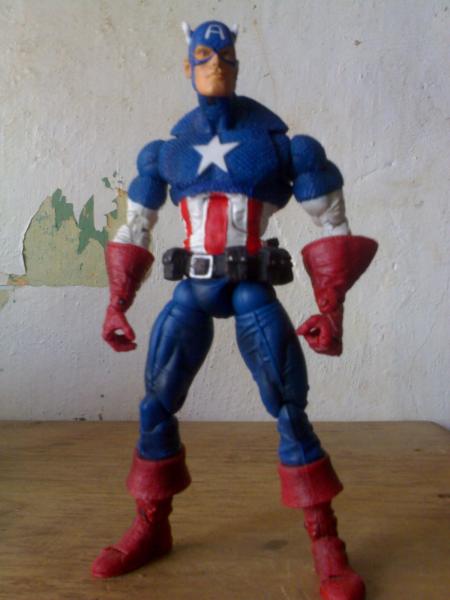 Custom Classic Captain America
This was a piece for a vintage collector who lost
most of its large colection during the Great 2007 Flood.
it was quite simple, the recipe was:
Body: FO Captain America
Head: BAC Captain America series 1
First, the tummy stripes were corrected, as we all
customizers know, they came wrong (red must come in the
middle, not white), then the head was secured with epoxy
and painted in acrylic, then sealed.

Custom Capitán America clasico.
Este fue un encargo para un coleccionista vintage que
perdió gran parte de su gran coleccion en la Gran
Inundacion del 2007.
Fue muy sencillo:
Cuerpo: FO Captain America
Cabeza: BAC Captain America series 1
Primero corregí las lineas de la barriga ya que como todos
los que hacemos customs sabemos, vinieron mal (el rojo
debe ir en medio, no el blanco), despues le pegué la
cabeza con plastilina epoxica y la pinte con acrilico,
despues sellada.