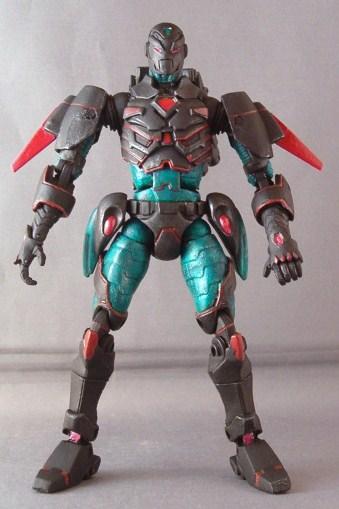 | | |
| --- | --- |
| Custom #: | 7166 |
| Name: | Iron Nemesis |
| Custom Type: | Action Figure |
| Toy Series: | Iron Man |
| Creator: | Shinobitron |
| Date Added: | April 19, 2008 |
| Base Figure: | ML 8 Iron Man |
| Height: | 6.50 inches |
I let my imagination go wild on this one! THis figure is based off of both Transformer and Marvel mythos:

After seeing that not only the Transformers pose a threat to his existance Unicron creates a new herald to eliminate Earths heros. Copying Tony Starks Iron Man armor Unicron forges the Iron Nemesis. Fear, Hatred, Anger, and despair is what fuels the IN, the more death and destruction it causes the stronger it grow.

THe IN has a wide array of weaponry at its disposal, repulsors are but one of armnaments. It can generate Energon blades from its forearms for up close and personnal combat, of which it prefers. An additional 2 jet thruster also can emerge from its back along with 2 jets wings, these are used to reach speeds up to MACH5 which very few can follow. When the IN reaches these speedsit creates a high pitched frequency that can cause temporary insanity in anyone or thing caught in its wake.

Although a machine the IN is not totally void of feeling. Since the bot was made from Unicron ( a sentiant robotic lifeform) it does have some personality traits. The most noticable trait is that of a collector. The IN collects the heads of opponents that it deems as worthy prey. What is done with these is unknown, but it is likely that they are presented to its master as offering.

Parts a palooza!
Although based of of a ML 8 I'm I resculpted the face to give it slight facial detail (since it is a living bot) The side skirts are from a MARS kit and the feet came via a Ronin Warrior. The forearms swords and jet thrusters are a combination of Gundam and dollar store Star Warriors weapons and pieces. The moveable shoulder armor is from a Ronin Warrior and the wings came via a House of M Wolvie!

Hope ya dig him!