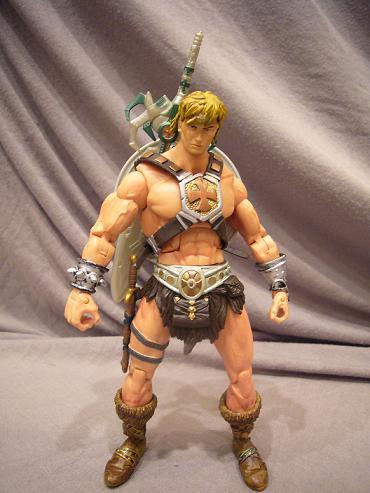 OHHHHH how I loved NYC Comic Con 2008.. I must of spent like 300 bucks on varies figures lol. god, it was a customizers DREAM!! varies figures for like 5-10 bucks.. sweeeeeeett well anyway, finding a Master of the Universe He-Man was a treat... next to a Conan too..

WHen I got home I went to work... however I FUCKED UP royally on the He=man head when drilling out a hole to put the peg in.. god.. I cut before I should of drummeled.. oh hell it was horrible... so I need a new head... I then used a ML Longshot head, closes to a normal head I have lying around... after that everything worked out great. very self explanitory

Head - ML Longshot
Hair - MOTU He-man
Base - LCSH Conan
attire - MOTU He-man

alittle paint to match up here and there. and there you go!

Thanks for lOOKINg!