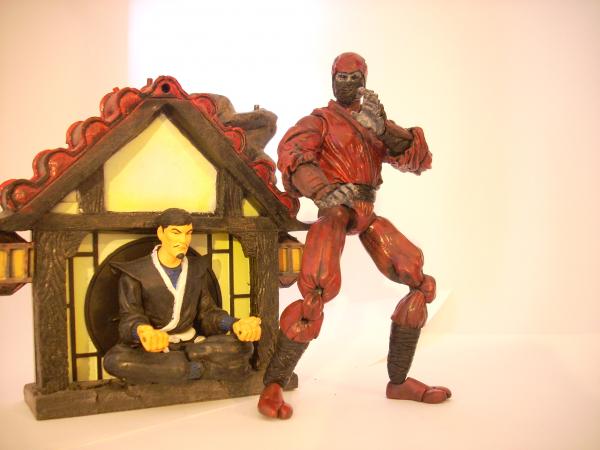 All right I've been on this site for more than a year and I started customizing around that time to but back then I sukked juevos. now over a 30 or so customs later I finally did one I thought was ok to show you vatos. So here it is my first SHOWN custom the hand ninja I always like the hand , it has been one of my favorite characters in marvel, I wish I could have an army of these guys. I made this guy like about 6 months ago but never had the nerve to show him, I have a habit of building customs all the way till I comes to painting them ,then I usally leave them cause painting is a pain in the a$$ for me especially since I'm part color blind, I have ton a customs ready for paint jobs but Inever get to them, well I've said to much any way heres the recipe.
Base- ML 9 dr. strange body
head- FF movie reed richards
hands- ML 11 wolverine
feet- ML 10 angel
The rest of the figure is me sculpting with aves apoxie. I had to dremel the head and feet and arms befor I started sculpting. it took like say a week to make on and off, but the painting is what took the most time. well there you have it eh, be harsh homies don't sugar coat it I want to improve tell me like it is, I can take it and if you like then even better, I have a few more you can bash on later on.