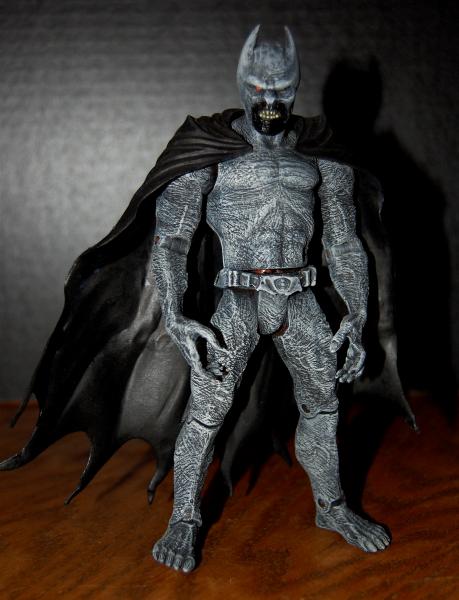 Hey everyone!

The latest addition to my fast-growing Batman Begins/Dark Knight line is the Fear Gas Batman! (Or Batdemon as I like to call him)

He was made from a LOTR Newborn Lurtz. I dremeled off the hair, and sculpted the bat ears. I added the belt from a Bruce-to-Batman figure. I really wanted to incorporate the chest symbol and cape but couldn't find anything suitable. I'll make sure to post more pics once I do though!

Props to Matt (Iron-Cow) Cauley for the recipe!

Hope you like it!

UPDATE: 3-28-10

Okay, so my Batdemon looked alright at first, but he just didn't seem DONE. So, I took a modified cape from the DCD Hugo Strange/Batman figure (also available in the Killing Joker boxed set, I believe) and added it to the figure. That, along with some black gunk around the mouth made the figure much more interesting and complete. Check out the new pics!

UPDATE 2: Sending the pics again. None of the new ones seemed to come through the first time.