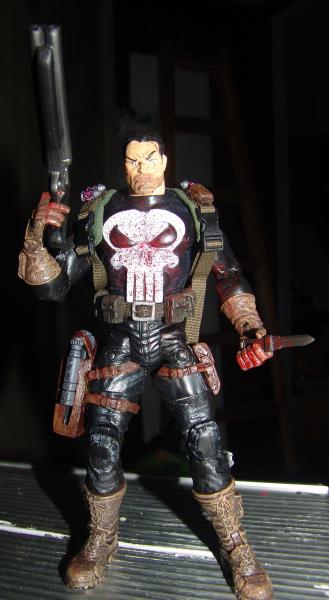 ok, removed the teeth on the chest & filled them right down, replaced boots, gloves & belt with captain america style, repainted skull on chest & his face, added blood splats.
filled down the pockets on his thighs & he now has gun & holster on right thigh, pouch on left thigh + night vision goggles (all from a wolverine figure) shotgun which can be holstered in the left side of his bachpack (from another marvel figure but I can't remember who!) the back pack is actually fabric & is fully functional, all the plastic clips work & the straps are fully adjustable, goggles fit in the main compartment & his 2 knives (origin unknown) fit in one side. there are some shot gun shells on the straps. the back pack I made from pouches & straps I cut from webbing for a 1:16 figure.
one of the pics was taken before I added the shot gun shells, but I like it!