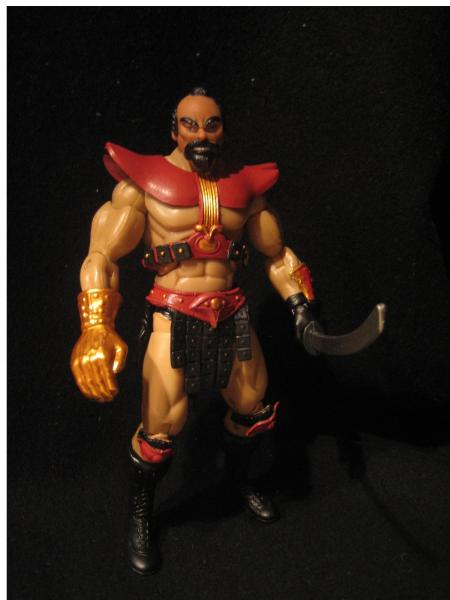 I have been wanting to make a Jitsu to go with my Fisto for a while now, but could never come up with the right look. Seeing Both Windblock and Madtinker's Jitsu figures really inspiried me to make my own.

I have been thinking of different ways to make his vintage armour fit the WWE Body.
Mattel often re-used armour and body parts to make a "new" character, eg Stinkor is a combo of Merman with Mechanek armour.

So I thought to use Tri-Klops armour on Jitsu. The way I see it, they are both ninja type characters, perhaps even from the same Clan? (Could make an interesting back story/Origin??)

Head - Vintage MOTU Jitsu (Thanks Windblock2002)
Body - WWE Deluxe Randy Orton
Armour - Combo of Vintage and 200X Tri-Klops
Golden Hand - Vintage MOTU Jitsu, dremmeled to fit onto the arm, and still able to turn.
Sword - Vintage MOTU Jitsu repainted.