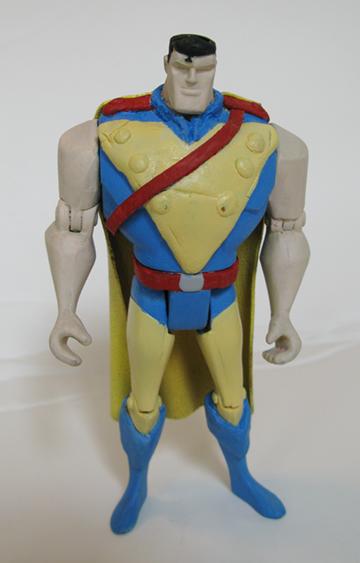 Strongman first appeared in 1940, with one of the most interesting costumes of the golden age. He eventually fell into the public domain, and after decades of absence, was used by Marvel as part of the villainous Nazi super team Battle-Axis, in an Invaders mini-series (1990s).

I've always been fond of Strongman's look, which has recently been given the Alex Ross treatment in his current Project Superpowers series. The base figure is a JLU Superman with Super Sculpey applications on the shoulders, collar, chest flap, and boot cuffs. The belt across his chest is a rubber band.

The original cape did not go back very gracefully, and I searched for a while on an alternative. I eventually settled on craft leather from Michael's. I used a fabric paint for color, which also helped it retain the folds and shape.