A Customizers Workspace: Tools and Paints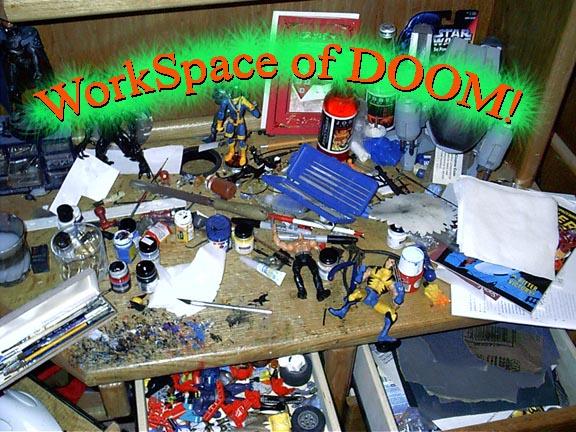 Here we will take a look at virtually everything you need to be a great Customizer!


Tools: What kind and where to buy them.


Paints: What brands and links to buy them.


Parts: Well, just save EVERYTHING you buy.


Ok... you're sitting there with a knife, an action figure, and some paints you stole from art class. Unfortunately you're going to need a LOT more than that to pump out quality customs. Fortunately for you I have just the Tutorial on just about everything you'll need to start customizing along with the big boys!
Tools
First we're going to start with a basic list of all the items you're going to need at your disposal. Most of these items can be found at Ace Hardware Stores and Wal-mart. Only things like the paint brushes and paints themselves are a little more difficult to obtain, but not that difficult.
Take a look below, these are the tools I use everyday. Each item is numbered so check the list for its name and location of purchase.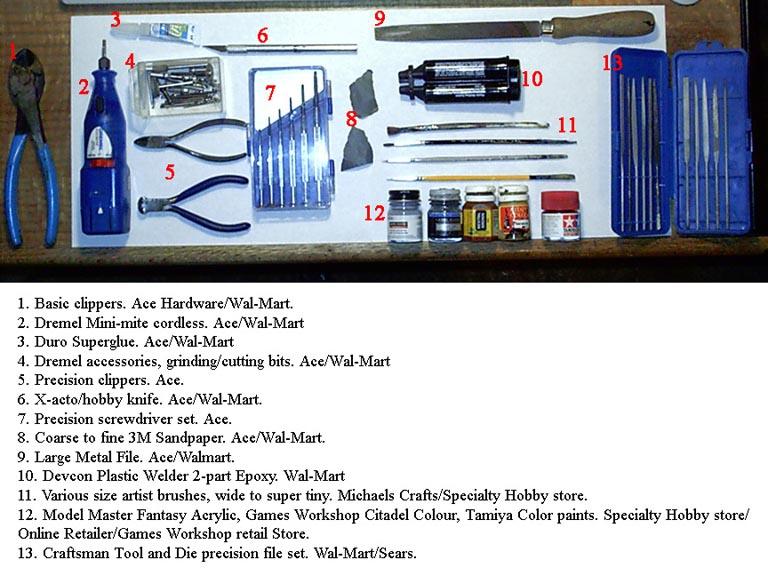 I use to recommend Milliput and Kneadite for your sculpting needs, but now there's something FAR better to use, Aves Studios 'Apoxie Sculpt'! This is a two-part modelling compound you mix together that self-hardens after a few hours. You can make armor, muscles, faces, anything you want out of it!
Storage
Need a place to put all that stuff? Buy one of those tool-containers from Wal-Mart or a hardware store, the ones with all the little pull-out drawers if you want to keep your stuff organized. Like this one.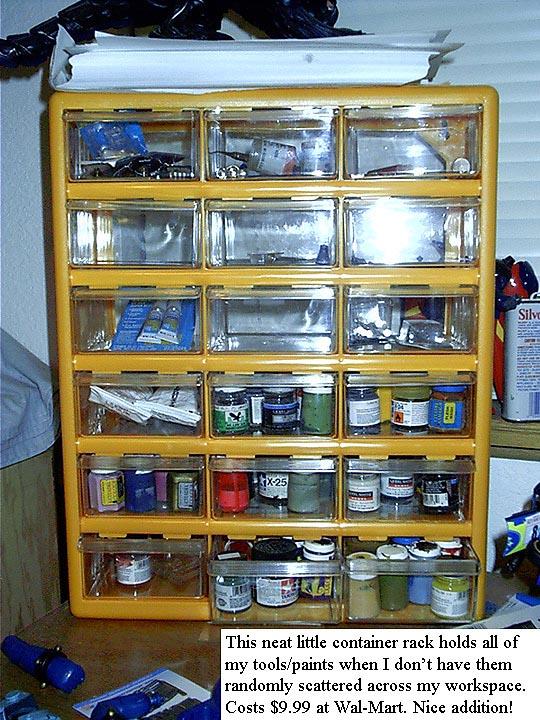 Fodder
So what are you going to use as "fodder" for your customizing antics? Aside from a base figure you're going to need parts. I got my collection of parts by saving every toy and accessory I've ever bought. You can hit garage sales and pick up broken figures, vehicles, anything with parts that come off it. Save all your weapons and accessories no matter how mundane they are. Every time you make a figure and have pieces left over, toss em in a box. Yeah your friends will think you're weird when they see a box full of amputated limbs and heads sitting on your floor, but you'll never have to scrounge for that piece you need!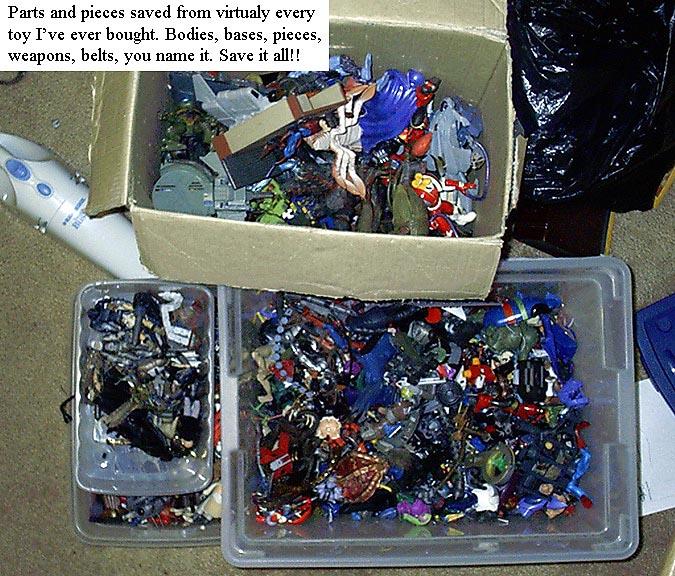 Paints
Now comes the FUN part, the paints! Paints are VERY important and usually make or break a custom figure. You don't want to use those craft paints you get at Wal-Mart, they're chalky and don't stick well. Instead you'll want to pick up some Testors Model Master Acrylic paints and Games Workshop Citadel Colour paints. Why? Because they are the absolute BEST. No fooling around here. They mix together well, dilute (and clean up) with water, and they don't rub off very easily from your figure! These paints also last forever if kept out of direct sunlight and you make sure their lids are clean and tight. Let's take a look below at what the paint bottles look like.
Now these paints won't be found at your local Wal-Mart. You need to travel to a Specialty Hobby Shop, or to a Games Workshop retail shop (usually found in big malls). I recommend getting them Online however. They're actually cheaper than what the hobby stores charge, they always have the colors in stock, and 3-5 day shipping usually is only around $5.00 per order.
Games Workshop has a very nice paint set called the "Mega paint Set" that includes a jar of EVERY different kind of paint they make, base flocking, gravel, glue, and other stuff for their miniatures. It's $200.00, but it will probably last you forever. You can also order the paint jars separately which is what I do.
Testors paints are a little different. They sell Enamels and Acrylics, but you only want the Acrylic-style paints. The best paints that you'll want are the Model Master Fantasy Acrylic series and the Model Master Acryl Acrylics. The Fantasy Acrylic line is EXCELLENT. In fact, you MUST buy a jar of the Dragon White and Dragon Black paints. These are the absolute best white and black paints I have ever used. They cover well and usually in one coat. They do not come off easily, in fact the Dragon Black paint won't even come off with alcohol! They both dilute to make a perfect wash, and look awesome when dry brushed for highlights. I recommend the Testors Fantasy series over all others I've tried so far!
You'll notice there's the Tamiya Color paint in there as well. I only use their clear colors (clear red, green, blue, yellow) for painting and don't like their normal line, tho some people swear by them. The paint brushes can be found at Michael's Craft Stores and those specialty hobby shops. Take care when picking out your brushes, check the tips VERY carefully before buying them. in general you'll need 4-5 good brushes. One for large coverage areas, a stiffer cheap one for dry brushing and wash's, a smaller general brush for base coats, and a few tiny tipped brushes for details such as eyes and belt buckles. I don't really have a preference between natural or synthetic brushes. Camel Hair is really good though.