Painting Eyes
Here's my step by step eye painting tutorial for your custom figures. The eye is one of the HARDEST parts in painting a custom figure. This tutorial is based basically on what I do. Every customizer's preference is different. I'll just share what I do and hope to help you guys gather some tips and tricks, learn more methods on this tutorial, and find out what works out best for you.
1. I started using a Psylocke base head, resculpted into a Jean Grey custom, and primered it with flat tamiya flesh.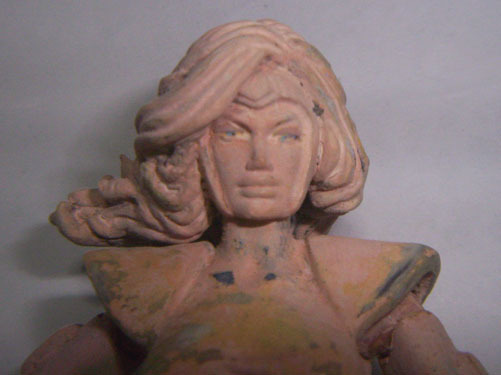 2. Then painted the entire face with the flesh tone I want. You can use whatever paint the face needs.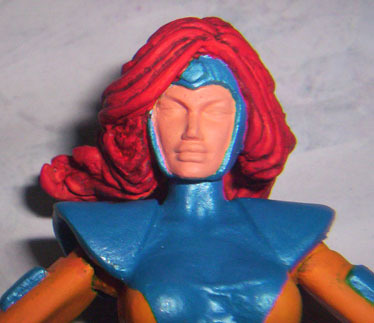 3. Paint an eye-like shape onto the eye socket... the black paint will be the eyeliner later.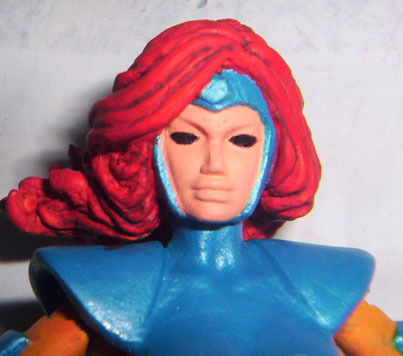 4. The white paint inside the black area will be our Sclera (the white of the eye). So you see now the black paint turned out as the eyeliner.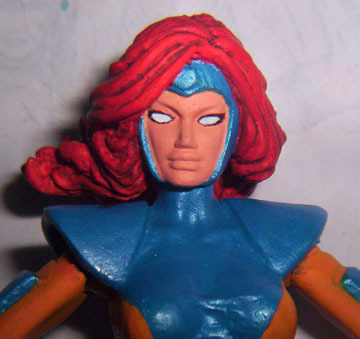 5. This for me is the hardest part... time now to paint the iris. Mostly this is done in black paint. Later, this black paint will be the outline of the color of the eye's iris. It must be centered if you want her to look infront... Otherwise, you might end up with a cross-eyed character... hehe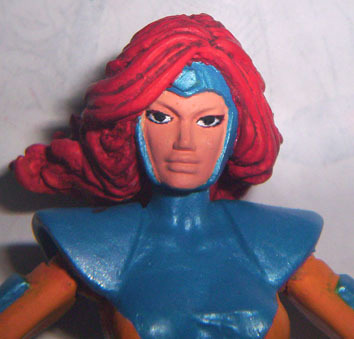 6. Green is the color of Jean Grey's iris. Just paint the inner portion of the black spot. This is one of the hardest parts, so I suggest use a very fine pointed brush.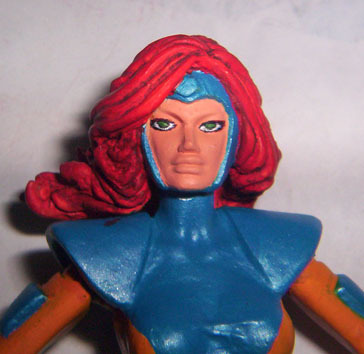 7. A black dot on the middle of the iris makes a perfect pupil. A pupil is the black dot inside the iris. Be careful again on where to place this.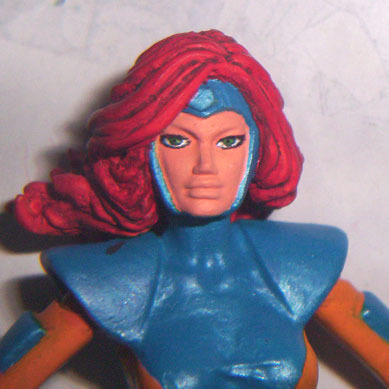 8. The next step is the highlight of 'em all. "the light reflection". This is the painted white dot beside the pupil. Either placed on the left or right portion of the pupil. Always remember that if you place the white dot on the right side of the left eye's pupil, the right eye should have the white dot also placed on the right side of the pupil, and vice versa.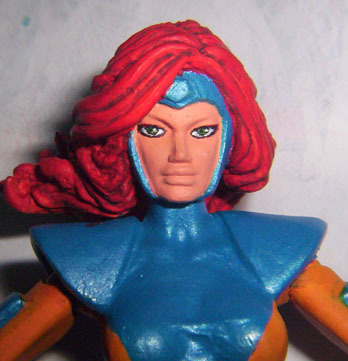 9. This is just a bonus for female figures... the makeup! If you want them to look like they went to a salon, I suggest this method. Mix either white and red to get pink, or blue and white to get light blue. Apply it between the eyebrow and the eye.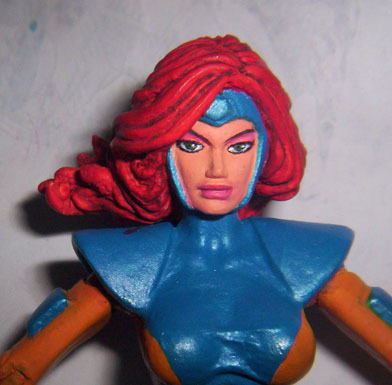 10. We are all done.