Bullseye (Closed Mouth)

Name: Bullseye
Height: 6'
Weight: 185 lbs
Eyes: Blue
Hair: Blonde

Power Rating
Intelligence: 2
Strength: 2
Speed: 2
Durability: 3
Energy Projection: 1
Fighting Skills: 5

A former soldier with perfect aim, Bullseye never misses his mark. From the early days of his career as a costumed criminal, the ruthless assassin has set his sights most often on a single target - Daredevil, the Man Without Fear. Any object - be it pencil, playing card or paper clip - becomes a deadly weapon in the skilled hands of the man who could be the world's greatest assassin!
Additional Pictures of Bullseye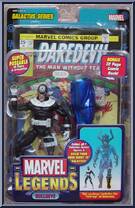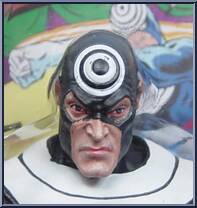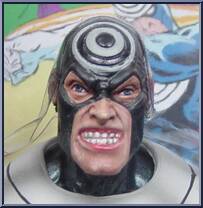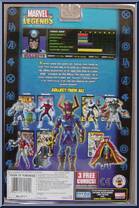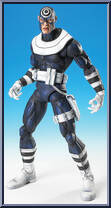 Reviews of Bullseye Toy Series
I do not own very many Toybiz Marvel Legends figures, but from what I have, Bullseye fit right in. I had just gotten the Nemesis Hasbro Daredevil and I wanted a Bullseye, so I picked up an in-package one at a comic book store. The figure does not include any accessories other than the Galactus piece, which I thought was fine. I just got some guns and knives at a dollar store with some generic SWAT figure. To me, the fact that the Bullseye figure itself is so beautifully painted and articulated and the fact that it really looks like Bullseye makes it a great toy. It is, along with Elektra, the best Toybiz action figure I own so far. The comic book was really a nice touch, and I really think that Bullseye would be a great addition to the collections of any Daredevil fan, Marvel Legends fan,...[
See More
]
Bullseye a figure you see a lot of as a base figure.Any way not only is this figure great for customs but he is also one of the best figures toy biz has made.The reason Bullseye is such a great figure is because he is very articulated each individual finger is movable. even though this figure is plain and does not have much accessories or pouches or any thing that is very complicated he still looks just as he jumped out of the comic because of the great paint job.Bullseye's variant is darker colored and is gritting his teeth.Bullseye comes with the left leg of Galactus and a comic book.Bullseye features 44 points of articulation.Personally I like the non gritting teeth bullseye better than the gritting teeth bullseye for two reasons one is the mouth I don't like the way it looks on him...[
See More
]
.Bullseye, one of Daredevil's arch rivals, finally makes his appearance in Marvel Legends. The sculpt is reasonably good, but not outstanding. The facial expression is quite sinister, which is what I'd expect for a villain. The body sculpt is typical Toy Biz standards,a lot of articulation points. 44 points of articulation make Bullseye a hell lot of posing fun. These movements are found on his neck, shoulders (multiple points that stretch to the back), upper arms, double elbows, lower arms, wrists, fingers, torso, waist, hips, upper legs, double knees, lower legs, ankles and toes. While this may be quite the standard for characters of this scale, ie. the leaner looking ones, it's still quite a feat to have so much movement on a 6" figure. I'm quite surprised they didn't allow his...[
See More
]
Can't believe he hasn't been reviewed! This is one of the best figures released by ToyBiz in the Marvel Legends line in my opinion. Not only is he perfect for customization due to his plainness, he is the best articulated figure around. Every finger moves separately! If only they had kept that concept rolling for the rest of the line... But seriously, there is nothing better than being able to have a villain give the hero the "finger"! Which raises the question: Why didn't Bullseye come with any accessories? He has all of this great hand movement, but nothing to move it around. Nothing throwing knives, cards, or stars are to be seen. The detailing on this figure is awesome though. From the zippers on his gloves and boots to the pockets on his belt and the nails on his leg belt,...[
See More
]
Subseries from Marvel Legends (Toy Biz) Toy Series
Contribute
The good folks here at Figure Realm try to give you accurate, unbiased, and most importantly, free information on action figures all day everyday! But of course, reviews and an occasional rant can only go so far, that 's why we encourage you to contribute! We're trying to build the largest, most informative, and simplest to use action figure gallery on the planet for every person out there to enjoy. Whether you want to know how many figures are in a series or the name of a certain figure or even if you just want to stare awestruck at all the pretty colors, galleries help everyone. What can you do to help? Glad you asked!



User Comments
Military on eBay