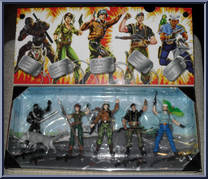 Warrant Officer
Code Name: Flint

File Name: Faireborne, Dashiell R. SN: 307-62-FD07
Primary Military Specialty: Infantry
Secondary Military Specialty: Helicopter Piolt
Birthplace: Wichita, Kansas Grade: WO-2

Flint was a Rhodes Scholar and earned a degree in English Literature. Growing restless with academia, he sought new challenges and enlisted in the Army, where he tapped into his tenacity and concentration to complete Airborne School, Ranger School, Special Forces School and Flight Warrant Officers School with top honors. His self-confidence and arrogance may irritate some team members in the Pit, but they're driving forces to a mission's success out in the field. He's led many dangerous rescue operations, most of which are classified for security reasons. Once you get past his blunt, forceful nature, you quickly realize that his entire focus is on supporting the team with no thought to his own safety or the praise of others.

"We're not heroes, we're just doing our job."

G.I. Joe Commander
Code Name: G.I. Joe Hawk

File Name: Abernathy, Clayton M. SN: 212-75-CM36
Primary Military Specialty: Artillery
Secondary Military Specialty: Radar
Birthplace: Denver, Colorado Grade: O-7 (Brigadier General)

G.I. Joe Hawk was the original field commander of the G.I. Joe team before he got his General's star and was booted upstairs to honcho the entire G.I. Joe operation. He's a West Point graduate and has a list of special education credits as long as his arm, but he acquired the main body of his experience out there where it counts-on the battlefield. G.I. Joe Hawk is the type of commander who goes out and gets shot at like everyone else. Troops respect that. They know he won't ask them to do anything he isn't willing to do himself. And that's why they are willing to do anything he tells them.

"A commander must be an example of courage and dedication to his team. He must also be willing to take the heat for his troops -- not just the glory."

Covert Operations
Code Name: Lady Jaye

File Name: Hart-Burnett, Alison R. SN: 853-71-6749
Primary Military Specialty: Intelligence
Secondary Military Specialty: Personnel Clerk
Birthplace: Martha's Vineyard, Massachusetts Grade: E-4

A graduate of Bryn Mawr and Trinity College, Dublin, Lady Jaye joined the Military and complete Airborne and Ranger training and graduated Military Intelligence School. She is also an accomplished actress, mime and linguist who can easily pass as a native in France, Italy, Poland, Russia, Germany, Afghanistan, Spain, and Portugal. These combined skills made her an expert in covert operations, which drew the attention of the G.I. Joe team. Her exceptional skill with the crossbow has also earned her the admiration of her team-and even the begrudging respect of Cobra troopers.

"Covert ops is all about attention to detail: the little mannerisms of inflections that help you blend in when you need to be invisible, and the one little detail in your enemy's plan that will bring down the whole operation."

Navy Seal
Code Name: Shipwreck

File Name: Delgado, Hector X. SN: 924-92-HX567
Primary Military Specialty: Gunner's Mate
Secondary Military Specialty: Machinist
Birthplace: Chula Vista, California Grade: Senior Chief Petty Officer

Shipwreck grew up in the shadow of the sprawling San Diego Navy Yards and dreamed of a life at sea. With his parents' permission, he enlisted in the Navy at the youngest possible age and graduated the Great Lakes Naval Gunnery School. He has fought river pirates, smugglers and other assorted thugs during his career before joining the G.I. Joe team. With his parrot Polly perched on his shoulder, he has faced the Cobra enemy on every watery battleground from vast oceans to murky swamps. As a salty a seadog as ever sailed the sea, Shipwreck is nevertheless a steadfast teammate who will go to Davy Jones's locker and back to complete a mission.

"The G.I. Joe team may be a bunch of landlubbers who wouldn't know a beam from a bout, but they've got a true fighting spirit that any sailor would respect."

Commando
Code Name: Snake Eyes

File Name: Classified
Primary Military Specialty: Infantry SN: Classified
Secondary Military Specialty: Hand-to-Hand Combat Instructor
Birthplace: Classified Grade: E-5

Although he is a top-notch commando who completed Advanced Infantry Training and Ranger School, Snake Eyes is better know for his martial arts skills, which have made him one of the two most accomplished-and deadliest-ninja masters in the world. His past is a labyrinth of heroism, tragedy and mystery. When he joined the G.I. Joe team, he brought not only his military and ninja skills but also his expertise in mountaineering, underwater demolitions and extreme environment survival. Silenced by a disfiguring helicopter accident, he nevertheless speaks volumes with actions that are always determined and courageous no matter the threat or the odds. During one mission, he saved the life of a wolf that became his loyal companion and brave comrade from that moment on.

"The man is a total mystery, but he's real good at his job, heck, he's the best."