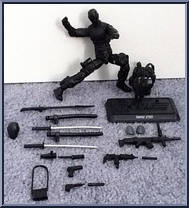 Description: "Snake Eyes is the GI Joe Team's ninja commando and martial arts master. As the team fight Cobra forces in the desert, Snake Eyes slips behind enemy lines to blow up Cobra fortifications. He is armed with a pistol, submachine gun and swords to battle anyone who tries to stop him from reaching his target.
Name: Classified
Serial Number: Classified
Grade: Classified
Mission Equipment: 'Boom Pack' Explosive Demolition Satchel Charge"

This figure includes an assault rifle, a pistol and detachable silencer, a second pistol that is not compatible with the silencer, an uzi with a detachable silencer (Both silencers store in the pistol holster on Snake Eyes' right leg), two knives and two sheaths (one being non-removable), two Katana swords with detachable sheaths, a traditional Arashikage clan sword, a removable vest that can store one pistol and the Arashikage sword as well as the Katana sheaths, a display base, an explosive satchel, two removable knee pads, and an interchangeable head. Snake Eyes also has twenty-six points of articulation and a poster advertising the Pursuit of Cobra line. The figure's interchangeable heads resemble the two main versions of Snake Eyes' helmet in the GI Joe comics and merchandise--his ninja commando helmet and his Resolute helmet.

In the GI Joe: A Real American Hero comics, Snake Eyes is known for his complex relationship with his blood brother, Storm Shadow, also known as Thomas Arashikage. The reason Snake Eyes does not ever talk is because of something he did that his teammates considered very selfless and courageous. In one mission, Snake Eyes and his GI Joe teammates are in a helicopter crash. Snake Eyes helps Scarlett to safety and, with his head already on fire, rushes back into the flames to save another GI Joe. Eventually his vocal cords are so damaged that Duke warns him to seek medical help or else he will never be able to talk, but Snake Eyes convinces him to continue the mission and ends up never being able to speak again.

When Snake Eyes' family was killed in a car accident involving Cobra Commander's brother, he was taken to Asia by Storm Shadow and trained in the Arashikage ninja clan. Through being taught in the clan, Storm Shadow and Snake Eyes became blood brothers and rivals until one event in which Zartan, a Cobra assassin, mistook Snake Eyes and Storm Shadow's Hard Master for Snake Eyes, who had already been in GI Joe alongside Storm Shadow for quite sometime (Which was the motivation for Zartan's attempted assassination). Hard Master was killed, and Storm Shadow raced after him, but Zartan escaped and Storm Shadow took the blame for Hard Master's death, not even knowing that Zartan was the person who did it. Snake Eyes left Asia and Storm Shadow was expelled from GI Joe, so he joined Cobra, vowing to work himself up through the ranks until he finds out who killed his uncle (Hard Master). Finally, when Storm Shadow becomes Cobra Commander's bodyguard, he discovers that Zartan murdered Hard Master and teams up with Snake Eyes once again to pursue him. After defeating Zartan, Storm Shadow and Snake Eyes repair their relationship and become teammates again on the GI Joe team.