Dennis Nedry

(with Tranq-Spray Gun & Dino-Damage Arm)
Dilophosaurus Hatchling looks small now, but an older one of these "spitters" is a dangerous hunter!

Figure Instructions:
Attach the backpack to the figure using the straps and the pegs.
To fill, squeeze and release the backpack while holding the weapon under water.
Squeeze the backpack to fire weapon.
Additional Pictures of Dennis Nedry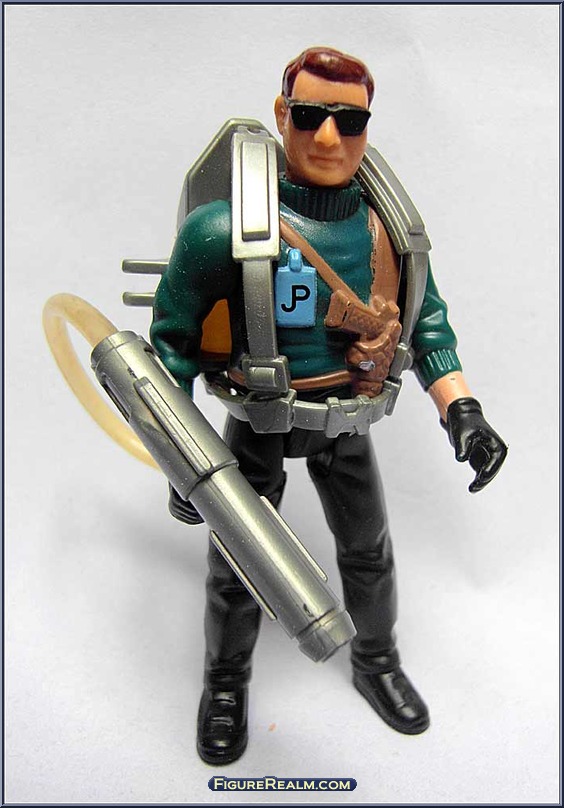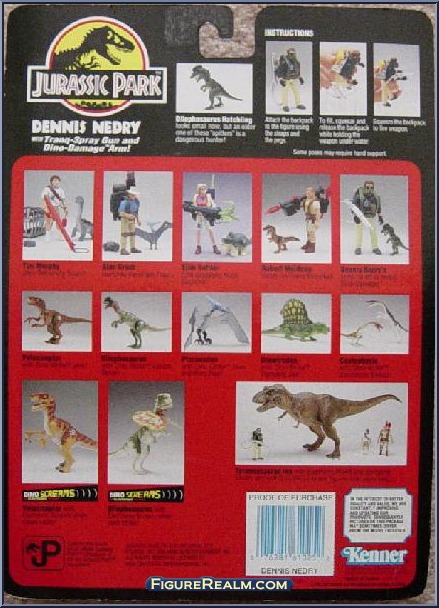 Reviews of Dennis Nedry Toy Series
I gotta say even though this figure looks nothing like Nedry I like him.he works great as a mercenary/agent type character IMO and as such I use him in that role.Nedry can always be seen on the Balcony of my Command Compound "overseeing"things.when my nephew plays with my JP stuff Nedry always comes to a sticky end LOL!! great figure though and I would recommend.even though the 2nd series figure has a better headsculpt that red jumper renders him useless IMO.heres your Nedry folks.go get him from the good folks at figure realm!!...[
See More
]
Hello! I can end the rumors and speculation about why this figure looks nothing like Wayne Knight. You see, I'm the sculptor who created the prototype model for this and the other JP1 figures from Kenner. Indeed, Kenner wanted the character to be "heroic" for play value, but the real reason is that I sculpted these before the movie was even filmed. The role hadn't been cast yet! Other concept drawings did have him as a portly man in a suit, but nothing like the real actor. I did the bodies first with generic heads. Later, when we got photos of the actors I did a new head. But Nedry was so different that they used the generic head. I also did the JP1 model kits for Lindberg Models and the T-Rex model kit for Revel Models. If you do a Google search on "CHowes sculpture" you'll find my...[
See More
]
The Jurassic Park lines have always produced good figures. The figures are always durable, have good playability and come with good weapons. Their only problem has to be that they aren't in any way movie accurate besides in name. If anything, they are closer to the book. Dennis Nedry here is no exception. Standing at roughly 5 inches(mines buried under more figures so I don't have an exact measurement) he comes with several things. First off he comes with a collector card, a little card with a fun fact on the back and a scene from the movie on the front. Its amusing how they take Nedrys death scene and turn it into childhood humor by saying he's taking a slide in the mud. He also comes with "dino damage" arms. In laymen's terms, you can pull both arms off at will and put them...[
See More
]
Dennis Nedry w/Tranq Spray Gun, Dino-Damage Arm & Dilophosaurus Unlike most of the figures in the JP line, this figure doesn?t look too much like Dennis Nedry (it is rumored that Kenner want to make the Nedry action figure a more ?heroic? figure). But don?t let its looks stop you from wanting to own this figure. There is plenty of playability: one of the unique features that you don?t find in the others is a ?Removable Dino-Damage Arm,? a human version of the dinosaurs? removable wounds. You are really able to recreate the JP films with this. Also, there is a Dilphosaurus hatchling and a Tranq-Spray Gun. Bad likenesses, great features! Review-Grading scale: Sculpt :: 6.5 ? 10 Colors :: 8 ? 10 Accessories :: 7.5 -- 10 Hatchling :: 9 -- 10 Overall :: 9 --10 ...[
See More
]
Subseries from Jurassic Park Toy Series
Contribute
The good folks here at Figure Realm try to give you accurate, unbiased, and most importantly, free information on action figures all day everyday! But of course, reviews and an occasional rant can only go so far, that 's why we encourage you to contribute! We're trying to build the largest, most informative, and simplest to use action figure gallery on the planet for every person out there to enjoy. Whether you want to know how many figures are in a series or the name of a certain figure or even if you just want to stare awestruck at all the pretty colors, galleries help everyone. What can you do to help? Glad you asked!



User Comments
Teenage Mutant Ninja Turtles on eBay