Chaos! Comics (Moore) Action Figure Checklist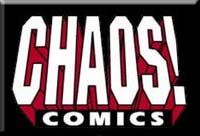 Some of the most well-known (and shapely) characters of the Chaos Comics universe are brought together in this line of deluxe 6-inch action figures by Moore. Posed convincingly with all the attitude you'd expect from Chaos!, Purgatori, Evil Ernie, and numerous incarnations (and damnations!) of Lady Death plague this series, but this is one plague you'll WANT to catch!
12" Figures

Exclusives

Chaos! Comics

-

Exclusives

Released in 1997 by Moore

Brian Pulido's Evil Ernie: Ernest Fairchild, teenage ghoul, is the maniacal leader of a zombie army dead set on taking over the world! With the help of his friend, the yellow button Smiley, Ernie wa. . .

Series 1

Chaos! Comics

-

Series 1

Released in 1997 by Moore

A supernatural demigoddess of destruction, Lady Death was born during the plague-ridden Dark Ages. To save her life and ease the pain of betrayal and heartbreak, she gave up her humanity, becoming col. . .

Chaos! Comics

-

Series 1

Released in 1997 by Moore

Lady Demon was "born" when evil seized control of Lady Death. Lady Demon pledged her help to the ruler of the Underworld, but traces of the goodness inside her kept Lady Demon from binding h. . .

Series 2

Report Corrections for this Checklist.

Show Thumbnail Pictures As (if available):
Loose
or
Package
Chaos! Comics For Sale