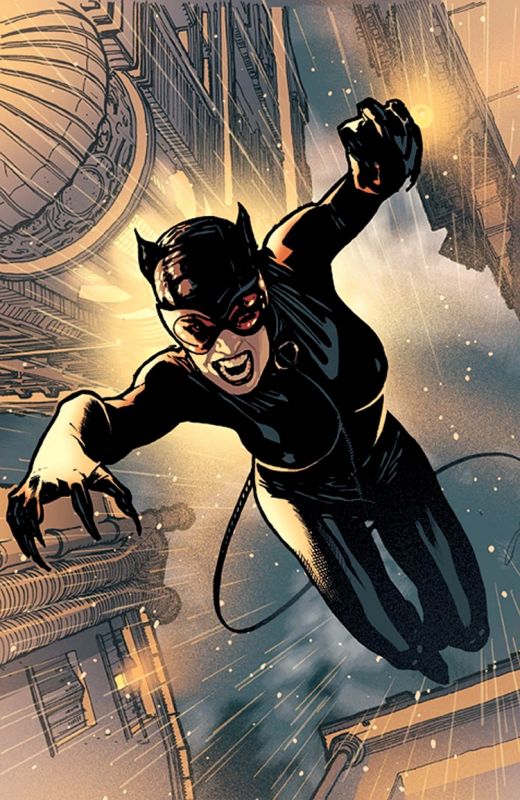 Name:
Catwoman
Real Name:
Selina Kyle
Publisher:
DC Comics
Height:
5'7"
Weight:
125 lbs.
Race:
Caucasian
Sex:
Female
Origin:
Gotham City
Base of Operations:
Gotham City
Created By:
Bob Kane & Bill Finger
1st Appearance:
Batman #1 (Spring 1940)
Universe:
DC
Affiliations:
Batman Family, Birds of Prey, The Outsiders, The Secret Society of Super-Villains, Injustice League, Justice League United
Powers:
The Catwoman is an excellent athlete and superb hand-to-hand combatant. Tremendously agile and light on her feet, she has a superior sense of balance. Catwoman's trademark weapons are her cat-o'-nine-tails, which can maim or even kill, and her claws,

Of all the women the Batman has encountered over his long career, Selina Kyle, the Catwoman, is without a doubt the deadliest and most formidable. Equipped with a cat-o'-nine-tails and other catlike weapons, she specializes in committing crimes and robberies around a cat motif. As a girl, young Selina was the product of a broken and unhappy home where her only friends were the numerous cats her family adopted and cared for. Selina was particularly close to her older sister, Magdalene, but the two grew up to follow divergent paths: Magdalene sought solace in the church and became a nun, while Selina ran away from home at age fifteen and quickly fell victim to the pimps and criminals who preyed upon young, pretty homeless girls lost in a cruel city. By age seventeen, Selina had fallen in with a loathsome pimp named Stan, who beat her severely enough to land her in the hospital. There, she met Detective Flannery, a tough but soft-hearted cop who saw in Selina an inner fire that might, with help, burn brightly enough to light the way to a better life. Under Flannery's direction, Selina took self-defense lessons from Ted Grant, a former heavyweight champion who fought crime in the '40s and '50s as Wildcat, and under his tutelage regained some of her self-confidence. Most of Grant's and Flannery's hard work, unfortunately, was undone by Stan, who was waiting for Selina when she returned home and who seduced her back into a life of prostitution. Shortly thereafter, though, Gotham City was introduced to a new crimefighter, the Batman, whose costume and modus operandi became an icon of fear among the criminal underworld. Inspired by the Dark Knight, Selina donned a leather cat costume and sought her own brand of justice, beating Stan within an inch of his life. Afterwards, Selina undertook a new line of work as a cat burglar. Ironically, though her first crime spree was mistakenly attributed to the still-mysterious Batman, Seline — now the "Catwoman" — met the Gotham Guardian only after Batman helped her rescue Magdalene from Stan, who had kidnapped her in revenge for his beating. Though both Batman and Catwoman both felt an undeniable attraction to each other from the moment they met and have since encountered each other countless times, nether can act upon their feelings without compromising their side of the law. That being said, in recent years, Selina has vacillated between a life of crime and one of super-heroics, most recently being a member of a branch of the Justice League.
Last updated by 2manydvds on October 16, 2015.