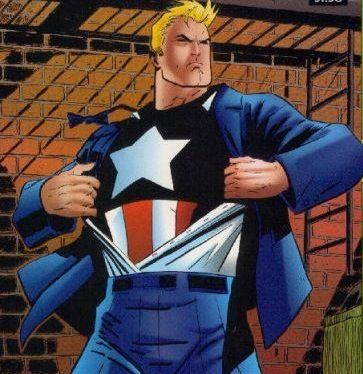 Name:
Steve Rogers
Real Name:
Steven ¨Steve¨ Rogers
Aliases:
Captain America, Nomad, Captain
Publisher:
Marvel Comics
Race:
Human
Sex:
Male
Origin:
World War II
Created By:
Joe Simon & Jack Kirby
Actors:
Matt Sallinger, Chris Evans
1st Appearance:
Captain America Comics #1(march 1941)
Universe:
Marvel
Affiliations:
Invaders,Avengers,Secret Avengers,U S Army,Redeemers,All-Winners Squad,Illuminati,Secret Defenders,S.H.I.E.L.D,,Project:Rebirth,New Avengers.

The frail Steve Rogers was unable to help in World War II, until professor Erskine chose him asa test subject for a Super-Soldier Serum. The experiment was a success, but Erskine was killed by a Nazi spy, which left Rogers as the only Super-Soldier. Rogers got a costume and shield to become an inspirational hero as Captain America.
During a mission stopping a bomb-plane sent by Baron Zemo, Captain America fell into the waters of the arctic and was frozen, surviving in hibernation thanks to the Super-Soldier serum. He was found out and awakened by the Avengers decades later, and joined them. When the founding Avengers left the team, Captain America became the leader of newcomers Hawkeye, Quicksilver and Scarlet Witch, and has remained the most frequent leader throughout other roster changes.
Last updated by DAMartin on December 18, 2015.