Steel
Name:
Steel
Real Name:
John Henry Irons
Aliases:
Man of Steel
Publisher:
DC Comics
Race:
Human
Sex:
Male
Origin:
Death of Superman storyline
Base of Operations:
Metropolis
Created By:
Louise Simonson, Jon Bogdanove & Dennis Janke
Actors:
Shaquille O'Neal
1st Appearance:
Adventures of Superman #500
Universe:
DC
Affiliations:
Justice League of America, Superman family
Powers:
Steel suit granting super strength, flight and weapons


John Henry Irons was an inventor for the army, but he quit and became a construction worker. Shortly after the battle between Superman and Doomsday that ended in their mutual kill, John Henry found out that the street gangs of Metropolis were using the weapons he developed for the army, so John Henry decided to follow Superman's legacy, forging and donning an armor that made him a literal "Man of Steel". After the real Superman returned from the dead, the Man of Steel shortened his appelation to "Steel" and became one of Superman's closest allies, and later a member of the Justice League.

Last updated by MCollector on April 13, 2019.
Additional Pictures of Steel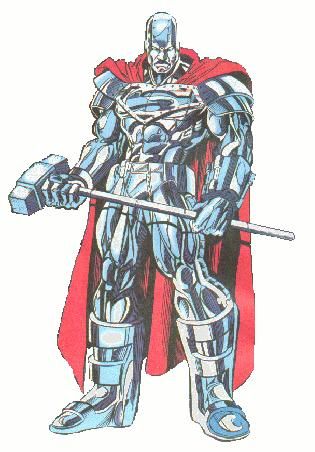 All Produced Steel Action Figures
Contribute
Did Spider-Man own a dog? Has the Witchblade ever possessed a man? Is Iron Man naked under his armor? You get to share your knowledge with everyone by contributing what you know. We try to fill-in as much info as we can, but it's up to you to fine-tune the Character Profiles, so please, help us out!

Contribute Profile Information for Steel.
User Comments
Military on eBay