Eowyn, Shield Maiden of Rohan (Lord of the Rings - Trilogy) Review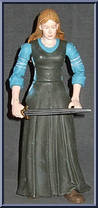 Eowyn, Shield Maiden of Rohan
Lord of the Rings - Trilogy (Toy Biz)I like that this figure was made. It's nothing special but it is a good representation of a Helms deep Eowyn. The sword paint job isn't as good as the pelenor fields Eowyn and the scabbard isn't starched to a belt so it's just loose appropriately so for when she brandishes her sword and has a little clash with Aragorn. My only issue with this figure is the one I got had a weak neck and had broken in places and the eyes needed a paint job as she looked nothing like her. It seems Eowyn is one of these figures with bad face painting details, though I can't account for the purple dressed one, the only face painted properly was the coronation one. This Eowyn is super articulated though the dress obviously inhibits leg movement, but that's not such an issue with her figure I feel. To conclude it's a nice addition to anyone's collection worth getting for completionists.







by Deaditor
Write your own review for Eowyn, Shield Maiden of Rohan

User Comments
Eowyn Shield Maiden Of Rohan on eBay
Previous / Next Reviews
| | | | | |
| --- | --- | --- | --- | --- |
| Balrog Battle Gandalf | | Submission Order | | None |
| Balrog Battle Gandalf | | Lord of the Rings - Trilogy Series | | None |
| Balrog Battle Gandalf | | Written by Deaditor | | None |