Ezio (Onyx Assassin) (Unhooded) (TRU) (Assassin's Creed) Review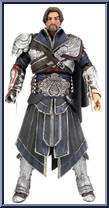 Ezio (Onyx Assassin) (Unhooded) (TRU)
Assassin's Creed (Neca)Brotherhood is when the figures showed a marked improvement, they had more articulation, more defined less sloppy detail and hidden blades that work really well. This ain't my favourite of the Brotherhood figures, in fact the whole Brotherhood aesthetic for the assassins especially Ezio's new uniform didn't really capture he same strength of the previous basic assassin robe he wore in 2 and the armour of Altair that he wore, though in thankful the game explains why he doesn't then just wear it in he next game, though it's a shame I love the look and made and posted a custom of it on this site for that reason.

With these new brotherhood figures they all have a double ball socketed neck meaning a much more natural neck articulation, a diaphragm ab crunch, swivel waist, swivel hinged shoulders on a hinge that can move back and forward in the upper torso, swivel hinge at the elbows and swivel hinged wrists, swivel ball hinged legs with a swivel on the upper leg, double jointed knees swivel at the boot and ankle with articulation on the toe as well. This figure is extremely articulated compared to the previous games figure entry's. I would only say double hinged elbows go a long way for articulation. This particular Ezio is the bulkiest with way too much armour and whilst it doesn't hinder articulation much I feel this game went a bit over the top with assassin armou and indeed the next game though they didn't make any armoured revelations figures I still prefer the basic one. The basic look is always better seeing as they need to be swift and fast not hindered. Even Cesare only wears a cuirass really making him seem less burdened than Ezio in accessories. Now this figure has only 1 accessory, 3 if you count the hidden blades which are very nicely sized workable and detailed, but the main accessory is the crossbow, which is better detailed than the revelations one. There's no real storage for it unfortunately but it looks decent and he can hold it well enough. Overal these brotherhood figures are where the figure series had reached its peak in making AC figures. It's a shame Neca no longer makes these figures as I prefer the scale to be new McFarlane ones which don't even have working hidden blades anymore form what research shows, it's also a shame we only got Assasins and no Templars, leading to a serious lack of collectibility, hence why I've made a few over the years. Overall this isn't my favourite brotherhood figure but as it represents the basic figures of this line it shows a marked improvement.







by Deaditor
Write your own review for Ezio (Onyx Assassin) (Unhooded) (TRU)

User Comments
Ezio Onyx Assassin Unhooded TRU on eBay
Previous / Next Reviews
| | | | | |
| --- | --- | --- | --- | --- |
| Ezio (Auditore da Firenze) | | Submission Order | | Ra's al Ghul |
| Altair | | Assassin's Creed Series | | None |
| Ezio (Auditore da Firenze) | | Written by Deaditor | | Ra's al Ghul |