All Terrain Vehicle (Big Jim) Review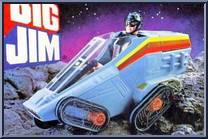 All Terrain Vehicle
Big Jim (Mattel)is it possible that they are a few without mechanisme?I have one that was sealed in box but the box had waterdamage so I opened the box and while I was putting the stickers on I see that the on/off button was missing! so I check te battery and there is room 4 battery but no mechanisme inside!

what is up with this! fault in factory or.....????







by skindemon
Write your own review for All Terrain Vehicle

User Comments
All Terrain Vehicle on eBay
Previous / Next Reviews