Commander Bacara (Quick-Draw Attack) (Star Wars - Revenge of the Sith) Review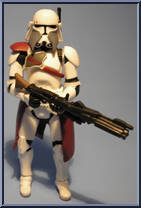 Commander Bacara (Quick-Draw Attack)
Star Wars - Revenge of the Sith (Hasbro)Commander Bacara was a Clone Commander serving on the cold plant Mygeeto under the Jedi Ki-Adi-Mundi who was in charge of the Galactic Marines. Though very loyal to the Jedi, when order 66 came in, he and his men opened fire on the unsuspecting Jedi, killing him.

CB was one of the more interesting clones of the movies. This was mostly due to his interesting armor that he customized himself. The main changes were two armor plates put on the sides of his helmet along with a bigger mic on the side. Anyhow, BC comes at the usual SW height of 3.75 inches tall. He comes with three things of interest, a hand blaster, blaster rifle and quick draw action. The first two are self explanatory so ill move right onto the quick draw action. Its quite simple actually, squeeze his legs together and he raises both arms up to simulate a quick draw. This is an ok feature but not the best. He has a tendency to raise his arms to high so it looks like he's walking through water with his gun over his head. Not a horrible thing but it could have been done better.

Bacara's color is the same as the movie, though to compare you would have to look closely. He wears the typical black body suit with white armor over it. Over his chest he has a very small piece of body armor, just enough to protect his left breast. He also has a shoulder pad over his right shoulder which is red. His battle dress is also the same color red while his belt is white. His helmet has its own unique style, the two metal plates are grey while the rest of the helmet resembles a regular clone helmet. Both his weapons are black but the butt of the rifle is colored brown, something not to many rifles saw.

Articulation, like the other figures, got better here. He sports movement at the head, arms, elbows, wrists, waists, legs, knees and feet. It is still nice to see that the clones are all really pose able in the new line, this gives so many more poses.

Overall a cool figure, he has everything a SW figure should have, good movement, cool weapons and a kick@ss set of armor. The only thing I have to take off for is the odd Quick-Draw.








by Mr-X
Write your own review for Commander Bacara (Quick-Draw Attack)

User Comments
Commander Bacara QuickDraw Attack on eBay
Previous / Next Reviews