Barc Speeder (with Barc Trooper) (Star Wars - Revenge of the Sith) Review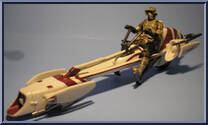 Barc Speeder (with Barc Trooper)
Star Wars - Revenge of the Sith (Hasbro)Like the rest of the Ep3 Clone Troopers, the Barc Speeder (with Barc Trooper) definitely hit's the top of the figure chart. As a precursor to the Scout troopers you know it has to be awesome and it doesn't disappoint at all.

The clone comes at a small height, about 3 inches tall. This is due to his sculpt which has him sitting so tightly he's almost in a ball. He comes with no weapons and can't stand on his own due to his leg sculpt, not that it matters he looks better on the bike. The bike itself is about nine inches long, much bigger then the figure. You get the idea that the early speeders were big, at least compared to their rider. The Speeder only comes with one feature, one of those pull belts. You insert the belt right above the back wheel, push it and then pull hard and fast. This gets the wheel cranked up and moving. You out the speeder down on a flat surface and watch it race across the floor, pretty cool.

Color scheme is cool here to. There isn't much to the trooper, just imagine a normal scout trooper but instead of white armor it's a green camo smeared with patches of tan to represent dirt and you have the BARC trooper. The bike isn't much more then the figure. The whole thing is white save for the wheels. The seat is grey as are the front laser cannons. There are red stripes that run down the bikes body and mark other areas. The only other colors would be the bottom wheels which are a flat black.

Articulation isn't anything to talk about. The trooper only moves at the arms and legs and even that isn't much. The bike doesn't move at anywhere, not that it should.

A very simple figure that turned out really cool. The BARC trooper adds to any army as a Scout and battle bike. He easily gets 5 out of 5 starts for coolness and good color.







by Mr-X
Write your own review for Barc Speeder (with Barc Trooper)

User Comments
Star Wars Revenge Of The Sith on eBay
Previous / Next Reviews