Series 1 - Beetlejuice (Kenner) Checklist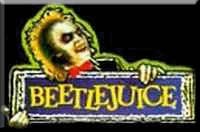 The Maitlands, an everyday American family, much like our own. The only difference between them and us is the fact they are dead. After coming to the full realization they are spirits, the Maitlands have come to cope with it. Their newest problem though is that a stingy, weird family has moved into their house. Calling on the mischievous spirit exerciser, Beetlejuice, the couple gives their all to try to ride their old home of the new family with chaotic results!

Report Corrections for this Checklist.

Show Thumbnail Pictures As (if available):
Loose
or
Package
Beetlejuice (Kenner) For Sale