Pin to Win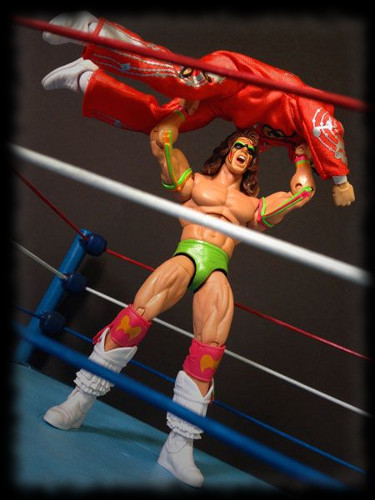 View Contest Entries

Ladies and Gentlemen, it's rassling time!
- Both real world wrestlers (past and present) and fictional ones (Kinnikuman/M.U.S.C.L.E., Rumble Roses, Saturday Night Slam Masters, etc.) are acceptable. Your wrestler can come from any media (television, movies, video games, toy lines, comic books, etc.)
- Any style/type of wrestling, real or theatrical, is fair game: Greco-Roman, Freestyle, Collegiate/Scholastic, "Professional"/"Sports Entertainment" (WWE), Submission Grappling, Lucha Libre, Sumo, etc. In the broadest sense, the fighting style in question must place a heavy emphasis on grappling in order to be considered a form of wrestling.
- The athlete/character must be depicted as their wrestling persona. For example: Andre the Giant as Bigfoot from The Six Million Dollar Man or The Rock as Roadblock from G.I.JOE: Retaliation would not be legal submissions. In other words, wrestlers performing in unrelated roles don't count.
- You may not submit non-wrestler characters as wrestlers unless that's something that they actually did, however briefly, as part of their history/fiction. For example: Peter Parker wrestled for a short time after gaining his super powers and before he assumed the role of the crime-fighting Spider-man. Also keep in mind that you must dress the character appropriately, if applicable, to reflect their appearance when they wrestled. For example: the four TMNT all had unique costumes in the Archie comics when they performed as intergalactic wrestlers.
- In addition to the wrestlers themselves, related characters, like league owners, announcers, referees, managers, mascots, etc. are also legal subject matter.
- You may also create a completely original wrestler character if you like. If you do so, don't forget to tell the voters all about him/her in your entry description (Why did they become a wrestler? Do they belong to a league or team? What are their signature moves?)
- Instead of a figure, you may also make a wrestling-centric diorama/playset like a ring, gym, locker room, etc.
- You may utilize whatever base bodies, parts, materials, and tools you like to bring your customized grapplers to life. Who will survive the Royal Customizing Rumble and win the coveted gold, silver, and bronze belts (a.k.a., Figure Realm trophies)?
What is the contest schedule?
| | |
| --- | --- |
| Begins: | Contest Closed |
| Ends: | March 31st, 2014 - Last day for submissions. No exceptions! Cut off is at midnight Central Standard Time. |
| Voting: | April 1st - 7th. |
| Managed By: | Patraw |
What are the rules of the contest?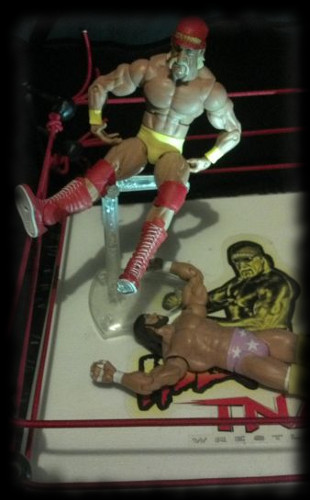 Please use the form here to submit your custom figure.
At least a paragraph description is required with your entry. This paragraph, at a minimum, should answer the following questions:

How was this custom customized?
How does the custom fit into the contest theme?

You may submit up to three different entries for the contest.
Please only submit figures that were created for this contest. Do not submit old figures from the Showcase or previous contest entries.
Your entry should not be posted on this website, any other website, or anywhere on the internet until the contest is completely over.
The pictures for your entry will remain hidden until the contest ends and the voting begins.
Your identity will remain hidden until after the voting completes.
Do not include names, logos, signatures or anything on the pictures that will give you away as the creator of the custom. We want to keep the customizer's identity a secret until the contest is over.
Don't wait until the last day to submit your entries. If your internet is down, or something happens beyond your control, you will miss the contest! Also keep in mind how many customs you can submit in one day. You may not be able to submit all your entries in one day.
The contest is purely for fun... well... and bragging rights!
How does the contest voting work?
Anyone can vote for their favorite customs in the contest, you don't even have to submit anything to the contest! You do have to be logged-in to your Figure Realm account though so we can keep track of the votes. Only appointed Figure Realm staff can see the votes, so anonymity is guaranteed. Voting begins once the entry deadline is met and lasts for a week.
It's hard to choose just one custom to vote on when there are tons of great entries, so Figure Realm has a unique voting system where you can vote on ALL the customs! When you click on an entry to view, there's a bar with buttons on it that lets you give the custom anywhere from 1 to 5 Stars. 1 Star means you think they could have done a better job on the custom while 5 Stars means you think they did a perfect job. The votes for each entry are added up when voting is closed and averaged-out to determine the winners. Also, don't abuse the system. Don't give your own custom 5 Stars and then give everyone else 1 Star to boost your rating. Remember, the votes are monitored.
Some points you might consider when casting your vote: Is the figure well-made? Is the paint smooth or crusty? Are there noticeable fingerprints on the sculpted parts? Is it an original custom? Is it accurate to the source-material (comics, photos, description in a book)? Are the pictures clear enough to see the details? Did the creator take the time to include a back-story or recipe? Is the custom so unbelievably awesome that you'd trade your girlfriend for it?
Craftsmanship and creativity are major factors to consider, but ultimately your vote should depend on how much you like the custom, and how well you feel it fits the contest theme.
User Comments