Frigid Festivities Custom Contest

You might be warm and toasty, sitting in front of the fireplace sipping hot cocoa, but the action figure with the stuck joints that you popped into the freezer a week ago, and forgot about, is getting frostbite. The goal of this challenge is to customize a toy that's connected to either a winter holiday or cold temperatures/conditions. The coolest (pun intended) entries will be awarded with virtual gold, silver, or bronze candy canes.
Listed below are several suggestions for possible contest submissions, but feel free to come up with your own ideas as well, so long as they conform to the central theme of the challenge:
1) Customize a figure that represents some aspect of the winter holiday season. These events include, but are not limited to, Christmas Eve/Day, Hanukkah, Kwanzaa, the Winter Solstice, and New Years Eve/Day. You could make a specific person/thing associated with your chosen winter holiday or dress up another character to look the part (i.e., stick antlers and a light-up nose on Marvel's Wolverine to create Logan The Red-Nosed Mutant.)
2) Make an arctic gear version of the character of your choice. Slap things like a parka, scarf, skis/snowshoes/skates, gloves/mittens, etc. on them and you're good to go. Individuals that are already dressed for winter are also acceptable (G.I.JOE's Snow Job, Iceberg, Snow Serpent, etc.)
3) Create a real, or fictional, organism indigenous to arctic environments (wampa, penguin, ice dragon, polar bear, yeti, frost giant, etc.)
4) Craft a character that has powers/abilities that incorporate cold temperatures (Marvel's Iceman, DC's Mr. Freeze or Captain Cold, Mortal Kombat's Sub-Zero or Frost, etc.)
There are no size/scale limitations and you may utilize whatever materials/parts/tools you like when crafting your entry. And please remember NOT to put any logos/names/watermarks on your entry photos that identify you as the customizer; each toy's creator is supposed to remain a secret until the conclusion of the contest's voting period!
Please remember to follow the
Contest Rules
and to
Vote Fairly
.
What is the contest schedule?
| | |
| --- | --- |
| Begins: | Contest Closed |
| Ends: | December 31st, 2011 - Last day for submissions. No exceptions! Cut off is at midnight Central Standard Time. |
| Voting: | January 1st - 7th. |
Example Pictures for Ideas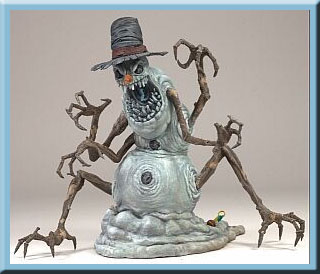 View Contest Entries

User Comments