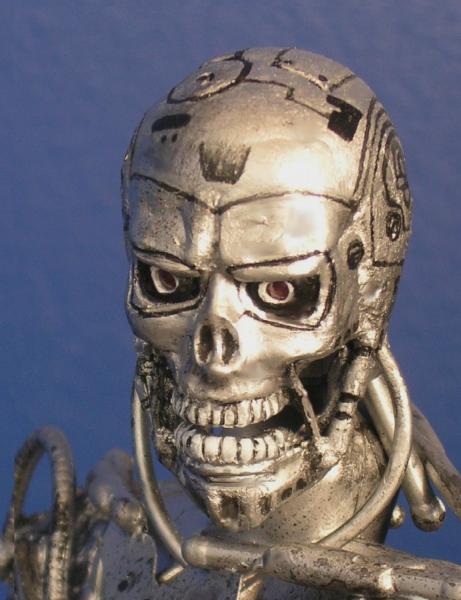 | | |
| --- | --- |
| Custom #: | 10121 |
| Name: | T-800 Endoskeleton |
| Custom Type: | Action Figure |
| Toy Series: | Terminator |
| Creator: | N TT |
| Date Added: | September 25, 2008 |
| Base Figure: | IG-88 |
| Height: | 13.00 inches |
Technically speaking, the T-800 Endoskeleton doesn't have an azz in which to be bad with lol. But this cybernetic organism has got to be one of the meanest, most tenacious killing machines that just doesn't know how to die. It's even more intimidating in its mechanical form, robot walking out of a huge blaze, scraping its metal foot across asphalt, unrelenting in its pursuit.
Had to take apart a 14 inch IG-88 for the base, added some Mcfarlane Cyber unit parts to give it better articulation (torso/elbows/knees), and the skeletal hands/feet were from one-of-them Hallowe'en door skeletons. Got the plastic skull from a novelty shop (the skull on the door skeleton was a tad big), did some minor sculpt work on it and added clear ruby marbles for the eyes, sculpted over. The detailing on the skull was done with a combination of painting/sculpting to create all the mechanical effects. The paint had difficulty adhering to the silver slippery surface. A thicker consistency of paint was needed to even achieve a well-defined line. But this caused the mechanical detail to look sloppy, too fat, where fine lines were supposed to be. Fortunately, because the surface area was slippery, a simple scrape (using a toothpick) of those lines were able to refine the detail. Attached wiring where applicable, and used lego pieces for some of the skeletal structure. Assembled the plasma rifle from random fodder, did some minor sculpting overtop as well.
After stripping the Terminator down to its bare minimum, without the flesh, sweat and bad breath, it still is the baddest hunk of wreckage with a badass sense of humor. In the last pic, decided to add a few aliens to walk the beat with this unit. Because xenomorphs were biomechanical creatures, Terminators were able to control them thru a frequency wave, employing the services of their expertise. On seek & destroy missions, they were mainly used to draw out quarry, exposing their location and flush any human resistance platoons straight into the path of a T-bot. Number 9 on the list, and one of the most fun customs to put together, we outta be seeing a motherload more of them rustbots in the upcoming T4 movie. Looking forward to see things getting blowed up good.
Thanks for checking this out!