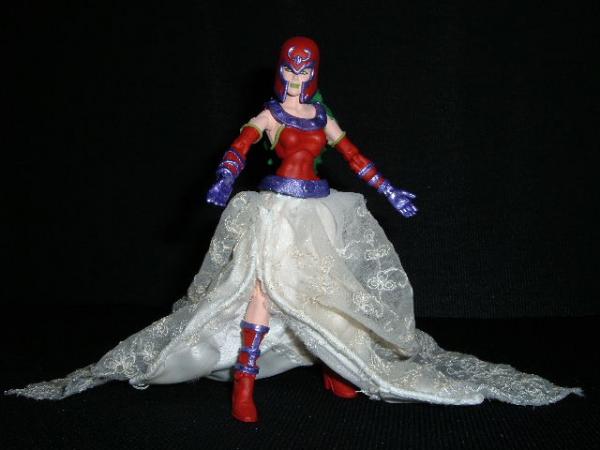 This contest was to make a custom that shows the power and fury of a good woman. Well hell hath no FURY like a woman scorned. This custom is of Lorna Dane AKA Polaris from Marvel's X-men two-part story arc "Sacred Vows" in which after years of dating Alex Summers AKA Havok, being possessed by Malice, having her power negated and changed, joining a government task force, thinking Havok was supposedly dead, finding out her father was Magneto, being at ground zero during the destruction of Genosha, and finally the death of her supposed father Magneto, when Polaris found out that Havok was alive and well, she proposed to him hoping that their love would hold together the pieces of her already fragile psyche. Little did Polaris know that Havok was having doubts about the marriage, since he had fallen in love with the human nurse that had helped him back to health during his coma. During the actual wedding ceremony in front of all their friends and family, Havok annulled the continuation of the ceremony and that was the last straw for Polaris as her sanity finally broke and this mental breakdown took the form of Polaris in a Magneto wedding dress. While still a good person, the pain of her life as it was became too hard to bear, so she took the mannerisms and ideals of the strongest person she knew, Magneto. As in a few minutes she incapacitated all the X-men as they stood in the way of her getting ahold of the human nurse that stole away the love of her life, Havok.
This custom was made from ML Psylocke body, ML Wasp head, and other figure odds & ends.
Customizer side note: I was re-reading my X-men comics the other week and I thought one day when I have the need for it, I'll make a Magneto wedding dress Polaris custom (because I thought it was real cool looking design) and well because of this contest I put all other customs on hold and made what you see here. I also really wanted to see how the end product of combining the cloth dress to the figure's body would come out.