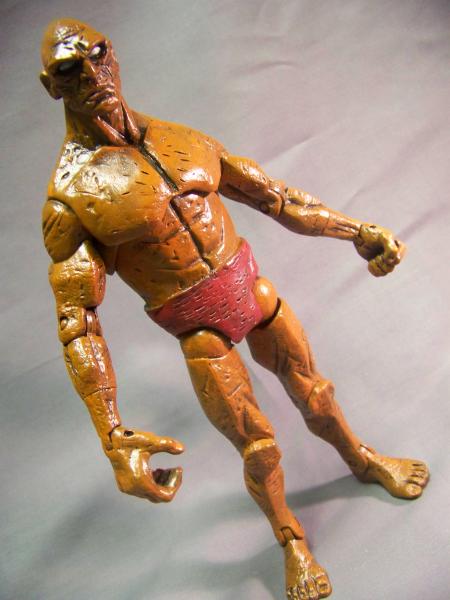 | | |
| --- | --- |
| Custom #: | 11192 |
| Name: | IT |
| Custom Type: | Action Figure |
| Toy Series: | Hellboy |
| Creator: | Stevid |
| Date Added: | December 2, 2008 |
| Base Figure: | Rodger |
| Height: | 7.50 inches |
"It--the Silent One" is the creation of Stan Lee, who wrote the first of two issues of Tales to Astonish (92-93) in which the humanoid appeared, Roy Thomas wrapping up the saga. Namor and Princess Dorma happen to spot an American submarine dumping (accidentally, as Dorma suggests?) a metal drum, which Namor realizes is full of deadly radioactive waste. He drops the thing into a bottomless gorge to smother its emissions. Little does he suspect that It sleeps in the slime and ooze at the bottom, as It has done for centuries. Awakening, It rises from the sludge, climbs the undersea ravine, and seethes with an unthinking hatred and urge to destroy! It spots the same submarine and attacks it. The sailors think their attacker is the Sub-Mariner, though they cannot imagine why he is suddenly radioactive. Then It pulls down s surveillance derrick.

Namor is ready to declare war on the surface world for this latest of provocations, but Dorma's sweet reason prevails, and instead he sends a small delegation of warrior's topside to negotiate. They are waylaid by a new attack from It, and only one usable to return to tell Namor. He races to find It and begins a death struggle against this being who is stronger than he, imagining him to be a killer robot dropped off by the American sub. The Americans torpedo the combatants, who, however, escape unharmed. The battle proceeds, and Namor, overcome by radiation, finally manages to hurl the tiring It through the hull of the sub. He returns to Atlantis, slowly recovers, and resolves to declare war on the surface.