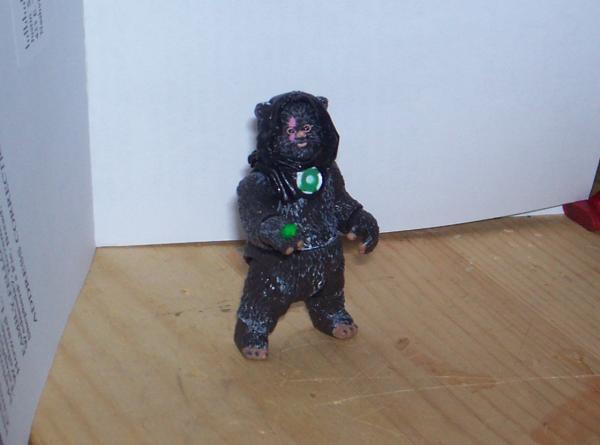 Entire figure was made for an Ewok

History

Jackek was born on the forest moon Endor. He never dreamed of any life outside of his home, as far as he knew the forest was all there was in creation. Then one day while hunting for food, his hunting group came across a shiny Golden God, the carried it back to their Village, and started preparing a celebration. When one of the other hunting parties returned with giants, he began to wonder where all these strange creatures were coming from. Then the Golden *JackKirby* started to levitate and became very angry that the Ewoks were planning to cook his friends and ordered them to let them go. The Village befriended these strange creatures and helped them in a battle against something called an Empire. After the battle was won, they threw a big celebration, and the giants left. The Village would never be the same again, they had been told by the Golden God, that he wasn't a God, and that the Giants were called Humans, and other various Races. They told him about his planet that the forest was on and how the forest was just a small part of his planet, and that there were many other planets outside of his. Jackek began to wonder what other strange things may lie beyond his forest

Captured

After about a year, the Empire returned and captured many Ewoks to try and learn any information they might have about the reformation of the Republic, this had become a regular activity among the Remnants of the Empire. Jackek was aboard a Star Destroyer for 120 Hrs. being tortured for information, that he did not have. After he finally passed out from the pain he was returned to his cell.

The Star Destroyer came under fire and retreated into uncharted space to get away from their aggressors, but they were followed in and the the Imperials had to make a stand. They turned to fight.

Chance or Fate?

As this battle was going on the Green Lantern for the Sector 3558 was Killed In Action. As her Ring began to search the Sector for a Replacement, it locked on to Jackek and made its way to him, as it burst through the Hull of the Star Destroyer, the Crew began to panic. The Battle and trying to deal with the Hull breach was too much for them to handle. As the Ring found Jackek and attached itself to him, it ran a body scan over him and found him to be unable to command the Ring, so it took control and headed for Oa, so he may report for Training. As Jackek and the Ring burst through the Hull again, the pursuers finally managed to cause enough damage to the Star Destroyer, to keep it from escaping. They boarded the vessel and began taking captives and absorbing the Tech, millions of spider looking mechanical bugs flooded out of the ship into the Star Destroyer, repairing damage and taking over the Star Destroyer.

Reporting to Oa

When the Ring made it back to Oa, Soranik Natu was called in to help witht he medical care of this new Recruit. Upon regaining consciousness Jackek was amazed at the sight he woke up to, many different "aliens", that is what they were called, working around him, at first he was swept up in the amazement of it all, then he remembered the torture and immediately was afraid he was in for more. When Soranik Natu noticed his pulse quickening, she walked toward him and as she began to talk to him, he became even more scared. She tried to calm him, but he became more violent when she tried to hold him down to administer a sedative to calm him. She had to hold him down with her Ring, as she was going to give him the sedative, she thought better of it and placed his Ring back on his finger. As it was placed on his mind was a flutter with the things he would do if he wasn't restrained, and suddenly the things he thought of began to take shape. Soranik was trying to stop him when Kilowog came in responding to the alarm. Kilowog made a cube around Jackek's bed, and restrained all of his Constructs until he was so exhausted, he stopped fighting. Now, he was willing to listen to everything they had been trying to tell him during the scuffle. As Jackek listened he was amazed that a little Ring could make him understand this language that was so foreign to him. He heard about how he was being asked to be a part of an intergalactic space police force, this was so outrageous sounding if he hadn't been through so much recently, he wouldn't have believed any of it. After a couple weeks Soranik told he was good to go, and released him from the Medical Facilities. He was to report to Kilowog for Training, the sheer size of Kilowog was breathtaking to him, this creature was even bigger than the giants, that visited his Village, but Kilowog had shown himself to be a good being to Jackek in the weeks of his Hospitalization, checkingin on him daily, and keeping up his morale. The next 3 weeks were grueling for Jackek, but he endured thinking constantly of making his home safe, and ensuring that the Empire would never set foot on his planet again. Upon Graduation, he announced his plans to return home, but the Guardians forbade it, stating that Green Lanterns were prohibited from interfering in foreign space. Jackek was irate at this, but some of the other Green Lanterns were able to calm him down. Guy Gardner waited until everyone was gone and had a talk with Jackek, he explained how Sector 3558 Bordered Jackek's Home Sector, and that he was sure Jackek would have opportunities to get some revenge. This relieved Jackek even more, he took flight back to his Space Sector and began his patrols.

A Chance at Revenge

After some time passed Jackek and his Partner were on patrol, Jackek received a distress call from his partner, as he made his way to help, Jackek's partner was in his home sector. Jackek crossed in to help, and saw it was a group of TIE Fighters attacking his partner. Jackek joined the fight, attacking in an animal rage, his Constructs were all claws, slashing away at the Imperials. Just as Jackek and his partner were finishing up with the TIE Fighters, the Star Destroyer they were deployed from came into view, it opened fire with it Laser Batteries, and killed Jackek's partner. Jackek turned and began attacking the Star Destroyer, with the same fury he showed the TIE Fighters. The Star Destroyer retreated, and Jackek reclaimed his partner's body to return it to Oa. As he passed one of the TIE Fighters, he noticed they didn't look like anything he'd seen before. He scooped a few pieces into a force bubble and made his was back to OA. when he arrived he gave the wreckage to one of the scientists there and they began researching it. Jackek was reprimanded for entering foreign space, even to help his partner. While the Guardians were deciding whether or not to punish Jackek, an alarm sounded in the science center. Jackek and other Lanterns responded to see the building being overrun with the little mechanical bugs the Ring saved Jackek from on the Star Destroyer. The bugs were replicating themselves so quickly that Oa would be overtaken in a couple days. Jackek and the other Lanterns made a force field around the area that was infested and ripped it from the ground and hurled it into the nearest Sun. With this near disaster averted, the Lanterns were able to talk the Guardians into sanctioning a reconnaissance mission into the foreign space sector to observe the threat level of the bugs.

Homecoming

Jackek was chosen for the team being sent on the Recon Mission, because of his knowledge, limited as it may be of the sector. He took the team to Endor, to set up base. Upon returning to his Village, there was a great celebration after he explained everything that had happened to him in the past 2 years. The other Lanterns were amazed that there was no signs of the bugs on this planet. One of the Scientists theorized it to be because of the lack of technology, he believes the feed on technology to replicate themselves, which made this planet the perfect place for a base of operations, for the next week the team of Lanterns observed the bugs, and assessed a threat level of the bugs. At which time they were to report back to Oa, so Jackek shared one last embrace with his family and friends, and joined the other Lanterns for the return to Oa.

Back to Business

When they made it back, the Guardians took the Threat Report and went into their Chambers to decide how to deal with this new threat, from these Replicators. Jackek was sent back to his Space Sector to resume Patrol. No punish would be administered to him.