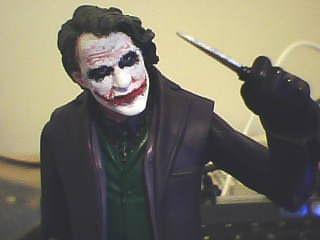 Another figure that many have done, but I wanted to attempt my own. This is merely a face repaint of the Joker from The Dark Knight. It's difficult to get the look just right because his face paint is messy...but in a somewhat formulaic way. So, here's what I did...

I mixed up a flat skin-toned base paint to match the neck. I painted his face up completely first (minus the eyes, of course). I then painted the mouth with red...yes, I painted the mouth FIRST. There is a reason for this. After the mouth is painted, I then apply a light, white coat of paint to the face. Apply lightly to the forehead as this will cause the flesh undercoat to come through the wrinkles in his brow. Also, I don't paint near the mouth yet. When everything else is painted, I apply a light, almost dry brush coat of paint a bit at a time to the area around the mouth. This way, there is not a stark contrast between the red and the white. They actually blend together. Now, the eyes. I use a fine tipped brush (actually, I've used this for most of his face) and paint a dark black just around the eyes, then lead up to the eyebrows. Under the eyes, I paint a bit lighter spreading a few lines outward as to make it look like the paint is pooled in the wrinkles around his eyes. Painting the hair wasn't completely necessary, but I wanted it to be less glossy and the green to not be so stark. I painted his hair completely black to bring out the following highlights. I then painted over that with a dark green. Over top of that, I used a light brown, almost blonde and dry brushed it over top to make the hair a bit lighter. Finally, I used a brighter green and painted random strands to bring the green out.

Now, I can't take all the credit for this. I used the same process I saw a guy on YouTube use to paint his own face up to look like the Joker, and it was some of the best I'd seen next to Ledger himself. It seemed to translate pretty well to the figure.

Hope you likes!!