The Juggernaut (Marvel Legends) Custom Action Figure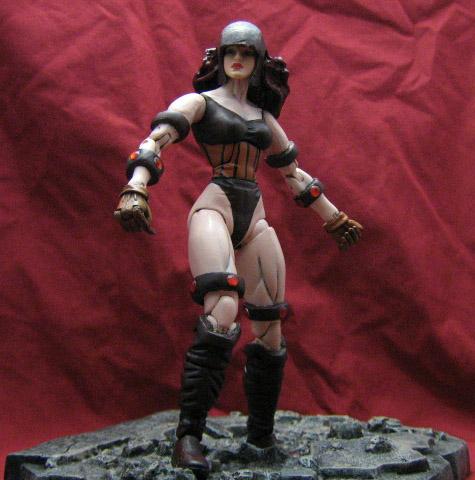 The Juggernaut: Empowered by the crimson ruby bands of Cyttorak, her power is immeasurable! Fueled by an all-consuming rage for revenge against those who have opposed her.
She is … quite literally…. Unstoppable!
Her story starts as young Marjorie Marko who is the wife of atomic researcher Kurt Marko. With the arrival of their first-born child only a few weeks away, Kurt has turned into an openly hostile husband and father to-be due to a recent string of professional failures. Marjorie feels this will change when the baby comes, however it does not. Kurt was away for a work project when Cain was born and when he got home he was more abusive than ever. It had gotten to the point where Marjorie is fearful for her and Cain's safety. The last straw came when she witnessed Kurt raise his hand to the newborn baby. She had to get out and get out now! Calling the only family member she had - a cousin who was serving in the army in Korea she was on the next flight.
When Kurt discovered Marjorie gone he made a phone call of his own. Remembering that a colleague of his had a daughter who was a nurse in the army, he asked him to contact her. It was imperative however that Marjorie not know that he was looking for her. She was suffering from a "post baby stress" and was not thinking clearly. When word got back to Kurt that yes, she was indeed there he got on a flight to Korea himself.
In a little tent inside a camp on the outside of the army base, Marjorie had just put Cain down for a sleep when she heard Kurt's voice. "It can't be…it can't be" was her first thought. Her second thought was RUN. Grabbing the baby she tore off into the jungle not even looking back. Kurt was not that far from the tent and heard Cain crying, spotting Marjorie running, he gave chase.
Sweat ran down her forehead and her heart and lungs felt like they were going to explode but she kept on running. Just when she thought she couldn't run another step, she tripped and stumbled into an opening that was covered with vines and bushes. It was some kind of cave with just enough light for her to move forward into a large open space. Something was glowing red up ahead and she needed a place to hide. She could see a huge statue of something or someone with a giant red ruby glowing on an alter. Kurt Marko entered the cave opening at full speed and didn't stop until he reached Marjorie and was able to tear Cain out of her arms and push her aside. Marjorie landed right beside the ruby on the alter. Grabbing hold of the ruby she started to transform into something massive bathed in red light so bright, it hurt to look at her. Then without any warning the cave began to collapse. The last thing Marjorie Marko see's is Kurt drop the baby and start running. The sound of falling rock and rising dust made it impossible to see anything more.
The Juggernaut shakes off several hundred pounds of rock and ruble like it was nothing! "My baby, my baby!" When she gets to the spot where Cain had been lying, there is a rock the size of a small car sitting there. She doesn't need to lift the rock to know what happened to her baby and without a hint of emotion she moves past the rock over to where Kurt lies trapped from the waist down under a stone slab.
"Our baby is dead and you are going to be after I get the name! " She screams.
"Please help me" responds Kurt. The Juggernaut bends down and grabbing Kurt by the throat lifts him up to her eye level.
"THE NAME!"
"What name? " He can barely speak with her hand on him.
"The name of the person who led you here, the one responsible for Cain's death! " After he tells her, she snaps his neck with no effort at all and drops his body like it was a piece of garbage. Slowly she begins to dig her way out from the cave in with only one thing repeating in her mind- CATHERINE XAIVER WILL PAY!
Pictures
User Comments
Custom Figure on eBay
Previous / Next Customs
Disclaimer
The figures contained in the Custom Showcase are not for sale by Figure Realm, and the creators of the customs are no way affiliated with Figure Realm. The Custom Showcase is purely for entertainment purposes and only provides a means for the creators to show off their work and trade ideas. Figure Realm does not make or sell customs.