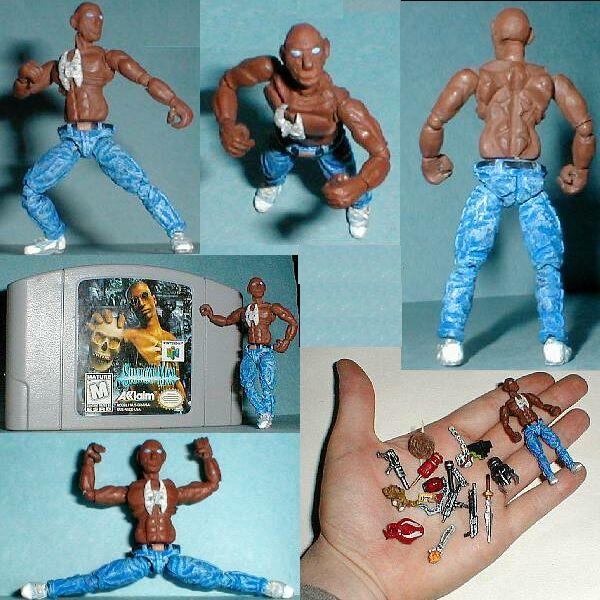 | | |
| --- | --- |
| Custom #: | 12899 |
| Name: | Shadow Man II (Mike LeRoi) |
| Custom Type: | Miniature / Figurine |
| Toy Series: | Valiant |
| Creator: | Patraw |
| Date Added: | February 25, 2009 |
| Base Figure: | n/a; 100% scratch build |
| Height: | 2.60 inches |
32-year-old Michael LeRoi had hoped to become a literary professor, but was not up to the rigors of academia. He flunked out of graduate school and foolishly spent the remainder of his college tuition on liquor, gambling, and women. Too ashamed to let his family know the truth, Mike took a job as a taxi driver to support himself, all the while maintaining the charade of being a college professor for the benefit of his loved ones. One fateful day, Mike gave a drug dealer--who was on his way to complete a transaction--a ride in his cab. The man met with his prospective clients, but the negotiations went poorly and the dealer received a bullet in the back of the head for his troubles. Terrified for his life, Mike fled the scene. After dumping the stiff and cleaning all evidence of the murder from his cab, Mike inspected the late drug dealer's duffel bag--inside was $20,000 in cash! Pocketing the money, LeRoi left town, hoping things would blow over. Back home, in New Orleans, Mike spent his new found wealth on a life-saving brain operation for his younger brother, Luke, and expensive gifts for his extended family. Unfortunately, the men who had killed Mike's last passenger turned out to be members of the mafia, and they soon put two and two together and came looking for him, and their missing twenty grand. Catching up with LeRoi, they repeatedly threatened to kill him and his family if he didn't produce the dough. Terrified, and unable to see any way out of his predicament (he couldn't go to the police after dumping the body, not reporting the crime, and keeping the money), Mike contacted a local Bokor (Voodoo Priest) for protection. The Bokor cast a protective spell on LeRoi, but Mike would soon come to learn that such things always come with a heavy price. Tired of Mike's stalling, his collectors decided to write the $20,000 off as a loss and balance the sheets with the LeRoi family's blood. While en route to a restaurant, an outing designed to celebrate Luke's release from the hospital, the mob performed a drive-by shooting while Mike's car idled at a stoplight. Both of Mike's parents, as well as his little brother, Luke, were instantly killed. Mike, while not slain outright, was gravely injured and fell into a deep coma for several years. Eventually, Mike regained consciousness, but suffered from severe amnesia and was unable to recall anything about his former life. At this time, the Bokor began to exert control over the confused man, making LeRoi his "zombie" slave--the secret price for his dubious protection spell. Renaming him "Zero", the Bokor utilized LeRoi as his private assassin. This went on for some time, until, one night, a Voodoo Priestess, Agnetta, more familiarly known as "Mama Nettie", stumbled into the Bokor's drinking establishment, the Wild At Heart. Seducing Zero and leading him into a back room, Agnetta used the opportunity, and the last vestiges of her power, to permanently implant the Mask of Shadows, the most powerful of all Voodoo artifacts, into Mike's chest. This transformed Mike into Shadow Man and freed him from the Bokor's control (although he would shortly learn that he had only exchanged masters, not gained true freedom). Killing the Bokor and taking his soul, the revitalized Agnetta passed the title of the Wild At Heart to Mike and also restored his memories (something Mike really wishes she hadn't done). Now, Mike spends his days bartending, and, at night, assumes the mantle of Shadow Man, the legendary Voodoo warrior and Liveside's (our world) only defense against Deadside (the afterlife).

My figure, and the accessories, are based on Acclaim's 1999 N64/Playstation/Dreamcast/PC Shadow Man video game.



Materials:
Newsprint, Kleenex, white paper, paper plate, cardboard from a potato chip box, white/hot glue, paper clip segments, transparent plastic from a toy package, fuzz from a Q-tip, wire twist ties, ink, gloss nail polish, marker, and acrylic paint.

Dimensions*:
(*The dimensions for this model can vary, depending on how the joints are positioned. The numbers given are for the figure in a 'neutral' standing pose, without any accessories attached.)
6.7 cm/2.6 in. x 2.8 cm/1.1 in. (highest point x widest point)

Articulation:
Twenty-one points total: Neck (2), shoulders (2), elbows (4), wrists (2), thumbs (2), waist, hips (2), knees (4), and ankles (2).

Time:
Nine days; construction ran from 2/9/08-2/18/08, with no work performed on the 11th. The figure took two days to make (sans Mask of Shadows) and the accessories took seven days.