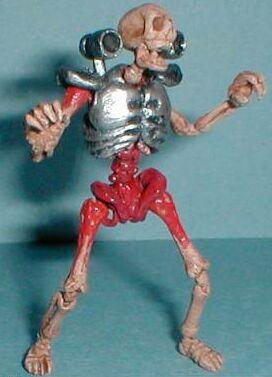 | | |
| --- | --- |
| Custom #: | 13078 |
| Name: | Revenant |
| Custom Type: | Action Figure |
| Toy Series: | Doom |
| Creator: | Patraw |
| Date Added: | March 4, 2009 |
| Base Figure: | n/a; 100% scratch build |
| Height: | 3.00 inches |
"Apparently when a demon dies, they pick him up, dust him off,
wire him with some combat gear, and send him back into battle.
No rest for the wicked, eh?
You wish your missiles did what his can do."

- Revenant description,
Final DOOM Instruction Manual


While our nameless Space Marine hero was busy dealing with Hell's invasion of Mars' two moons, Phobos and Deimos, and then, later, taking the fight to the Underworld itself (as told in the storyline of the original DOOM video game), the denizens of Hades were themselves making preparations for another, much larger attack elsewhere. Returning home victorious (or so he thought), the weary Marine was horrified to see that Earth had been overrun by the very demons he thought he had eradicated, and, what little remained of the human population was desperately trying to escape to the stars--unfortunately, the demonic invaders had gotten wind of this plan and surrounded the spaceport with hellfire, preventing them from reaching their starships. Snarling, and pumping a fresh shell into his shotgun, the lone survivor of the Mars invasion prepared himself for another titanic struggle against the forces of Hell, this time with the fate of the entire human race at stake . . .

Revenants are one of several new monster species that were introduced in DOOM II: Hell on Earth. It seems that the head honchos in Hell like to get two uses out of every unfortunate human they add to their forces: Once as a zombie, and then a second time as a Revenant (recycling is alive and well in the Underworld, albeit in a twisted form).



Materials:
Newsprint, Kleenex, wire twist ties, white/hot glue, gloss nail polish, and acrylic paint.

Dimensions*:
(*The dimensions for this model can vary, depending on how the joints are positioned. The numbers given are for the figure in a 'neutral' standing pose.)
7.7 cm/3.0 in. x 3.0 cm/1.2 in. (highest point x widest point)

Articulation:
Thirty-two points total: Jaw, neck (4), vertebrae (5), rocket launchers (4), shoulder pads (2), shoulders (2), elbows (4), wrists (2), hips (2), knees (4), and ankles (2).

Time:
Approximately five days: Construction ran from 12/31/07-1/6/08 with no work being performed on 1/2/08 and 1/4/08.