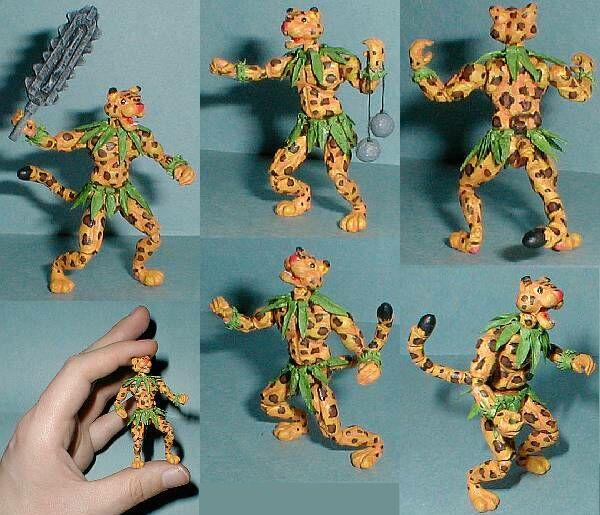 Jagwar is the mutant offspring of a union between the human woman, Juntarra, and the ancient and powerful Jaguar Spirit. Juntarra raised and taught her son/cub, Jagwar, until he was twelve years old, but, then, restless, she left to continue her personal quest to complete the "Path of The Four Winds", leaving him to fend for himself.

Jagwar first met the TMNT when the giant, other-worldly, disembodied cow's head, Cudley, dumped the four brothers in his Brazilian jungle, having transported them back to Earth after their participation in an intergalactic adventure. Quickly making friends with one another, Jagwar enlists the TMNT's aid in stopping a band of mercenaries who are plotting to cut down his rain forest home--the villains also recently killed a local union leader, Chico Mendes, and kid napped the American reporter who had come to interview Mendes, who just happens to be the Turtle's good friend, April O'Neil. Defeating the villains, and reuniting with April, Jagwar and his new friends enjoyed several other adventures in South America before parting company.

Shortly thereafter, Jagwar joined forces with several other animalistic humanoids (namely Wingnut, Screwloose, Leatherhead, Dreadmon, Man Ray, and Mondo Gecko) to form the super hero team, The Mighty Mutanimals. In the coming months, the group would fight against numerous villains, both on their own, and in collaboration with their allies, the TMNT. Unfortunately, Jagwar, and the other Mighty Mutanimals, came to an untimely, and controversial, end when they were gunned down and murdered by the demon Null's robotic henchmen (TMNT Adventures #55).



Materials:
Newsprint, Kleenex, white paper, cardboard from a potato chip box, white/hot glue, string from a sleeping bag, wire twist ties, sawdust, gloss nail polish, and acrylic paint.

Dimensions*:
(*The dimensions for this model can vary, depending on how the joints are positioned. The numbers given are for the figure in a 'neutral' standing pose, tail hanging straight down, and without any accessories attached.)
6.9 cm/2.7 in. x 3.3 cm/1.3 in. (highest point x widest point)

Articulation:
Twenty-eight points total: Jaw, Neck (2), shoulders (2), elbows (4), wrists (2), waist, tail (8), hips (2), knees (4), and ankles (2). Every leaf on Jagwar's belt and necklace can also move individually, but I'm not counting them as they just hang freely on the body and aren't permanently attached to the figure.

Time:
Four days; construction ran from 2/21/08-2/24/08.