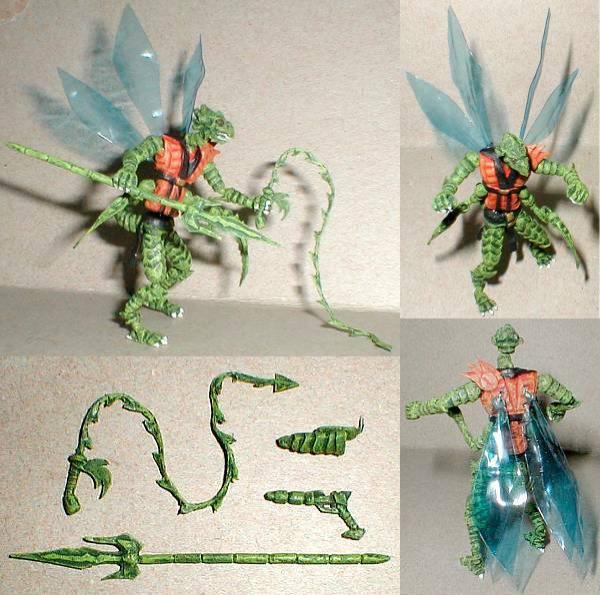 One of the four villainous invading aliens (Multiflex, Dumpjumper, and Thrashmor round out the quartet) that the Teenage Mutant Ninja Turtles must contend with in the 2008 Playmates TMNT: Alien Hunter toy assortment. All four of said intergalactic critters are new characters created specifically for said wave of toys.

Little is know of Buzzrok's origins or capabilities. It's possible that the creature's race evolved from an insect physiologically similar to one of Earth's praying mantis species. Either on the ground, or airborne, Buzzrok utilizes its scythe-like lower arms, barbed whip, pistol, and trident to assault opponents.

While the card-backs of the North American Alien Hunter TMNT figures advertise Buzzrok as available, it (and Multiflex) were only released in the United Kingdom.



Materials:
Newsprint, Kleenex, white paper, white/hot glue, wire twist ties, a paperclip, plastic, and acrylic paint.

Dimensions*:
(* The numbers given are approximations, as the dimensions of this figure can vary considerably depending on how the joints are positioned, especially the wings.)
7.0 cm/2.8 in. x 4.2 cm/1.7 in. (highest point x widest point)

Articulation:
Forty points total: Neck (4), wings (4), shoulders(4), elbows (8), wrists (4), chest, waist, hips (2), hocks (4), fetlocks (4), and ankles (4). Additionally, the whip accessory is bendable and the pistol holster has one point of articulation where it plugs into Buzzrok's waist.

Time:
Roughly five days: Construction ran from October 12-18, 2008, with no work performed on the 13th or 14th.