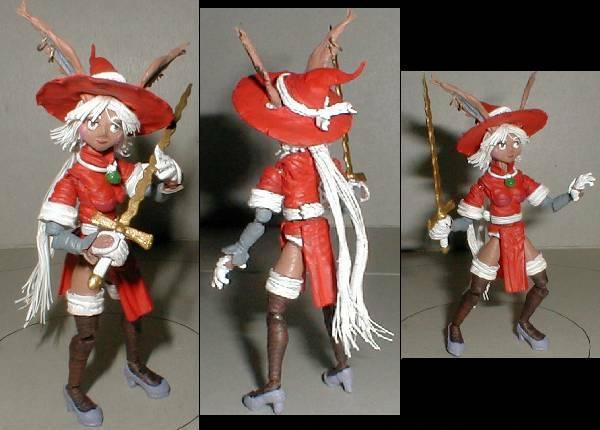 | | |
| --- | --- |
| Custom #: | 13410 |
| Name: | Viera Red Mage |
| Custom Type: | Action Figure |
| Toy Series: | Final Fantasy |
| Creator: | Patraw |
| Date Added: | March 19, 2009 |
| Base Figure: | n/a; 100% scratch build |
| Height: | 4.30 inches |
Viera warrior-mages versed in the arts of Black/White magic and swordplay. They are one of the many Job Classes one can assume in the Square-Enix Game Boy Advance video game Final Fantasy Tactics Advance.

One afternoon, four St. Ivalice children--Marche, his brother Doned, and his classmates Mewt and Ritz--study a strange, old book that Mewt purchased earlier in the day. The tome is filled with words written in an indecipherable language and unusual illustrations of fantastic beings. This book is actually the Gran Grimoire, an ancient and powerful text that can alter reality, transforming the physical world into whatever the reader secretly desires. Scanning the faded pages, Mewt reads aloud a single phrase, "Alta oron, Sondus kameela", the only words in the book he can understand, and remarks that it sounds like a magic spell.

It is.

The children awake the next day to find themselves, and their reality, transformed into the fantastic land of Ivalice--a magical place populated by many different tribe and monster species. This whimsical kingdom has been born of Mewt's love of the Final Fantasy video games, as well as his own personal demons: the death of his mother, his father's spiraling decline after that tragedy, and the constant bullying he receives at school every day. As Marche tries to come to terms with his role in this new world, he also struggles to find a way to return it to the way it was, a goal Mewt, Doned, and Ritz don't seem to share . . .

Viera are one of the five tribes of Ivalice. They are all female (which begs the question of how they reproduce) and resemble humanoid rabbits. Red Mage is one of the Job Classes a Viera can take on; in fact, Viera are the only tribe whose members can become Red Mages.




Materials:
Newsprint, cardboard from a cracker box, white paper, Kleenex, paper plate, paper clip, wire twist ties, white/hot glue, nail polish, and acrylic paint.

Dimensions*:
(*The dimensions for this model can vary, depending on how the joints are positioned. The numbers given are for the figure in a 'neutral' standing pose.)
11.0 cm/4.3 in. x 3.5 cm/1.4 in. (highest point x widest point)

Articulation:
Twenty points total: Ears (2), neck (2), ponytails, waist, loin cloth, posterior cloth, shoulders (2), elbows (2), wrists (2), thighs (2), knees (2), ankles (2).

Time:
Approximately five days; construction ran from 9/5/07-9/12/07, with no work being done on the 7th, 8th, or 10th.