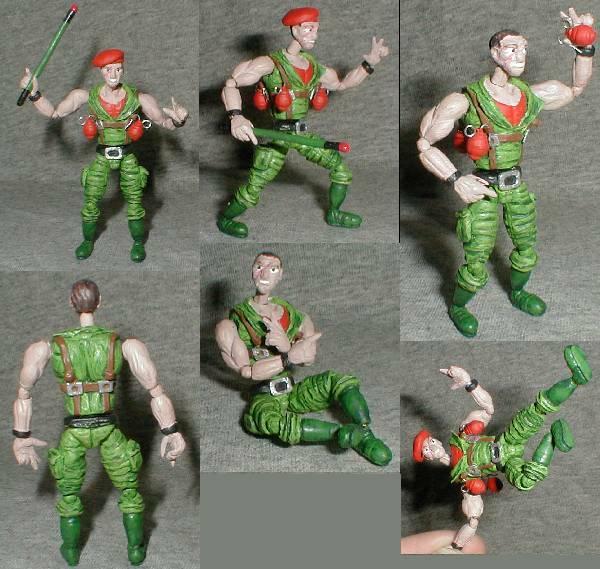 | | |
| --- | --- |
| Custom #: | 13548 |
| Name: | Rolento F. Schugerg |
| Custom Type: | Action Figure |
| Toy Series: | Capcom |
| Creator: | Patraw |
| Date Added: | March 25, 2009 |
| Base Figure: | n/a; 100% scratch build |
| Height: | 3.00 inches |
"In my ideal nation,
there would exist no
one as weak as you!"


A deadly ex-Red Beret and current militia commander that first appeared in the original Final Fight arcade game. My figure is based on his Final Fight 2 incarnation.

Little is known of Rolento's early life, other than that he was born in the United States and that he served in a Special Forces Red Beret military unit during the Viet Nam war. While Rolento eventually left, or was ejected, from the armed forces, he still continued to live a military lifestyle, centered around the core principals of strict discipline and survival at all costs. Some years later, he, and his small army of devoted mercenaries, joined up with the criminal gang Mad Gear, which operated out of Metro City. At the time, Rolento believed that Mad Gear would somehow help to bring about the kind of utopian society he envisioned (namely an unconquerable militarized nation). In the first Final Fight game, Rolento was seen to be a high ranking member of said group, second perhaps only to Horace Belger, Mad Gear's mastermind, and was in charge of all of Mad Gear's drug production operations. After Mad Gear's destruction at the hands of the heroes Haggar, Cody, and Guy, another evil crime boss, the Japanese Retu, built up a second Mad Gear group, this time a global operation, which Rolento also joined. Once more, Rolento was placed very high in the organization, second only to Retu, and oversaw Mad Gear's interests in Italy. Unfortunately for Rolento, and his villainous comrades, Haggar, along with two new allies, Maki and Carlos, crippled the Mad Gears again, this time permanently. Disillusioned, Rolento renounced Mad Gear and decided to strike off on his own. He still hopes to conquer Metro City and build up a society that champions the ideals he believes in, but, has yet to accomplish this monumental task. Rolento has been approached by another former colleague, Sodom/Katana, several times, in the hopes of reviving Mad Gear yet again, but, thus far, Rolento has declined, opting to work alone.



Materials:
Newsprint, cardboard from a cracker box, Kleenex, white paper, wire twist ties, white/hot glue, and acrylic paint.

Dimensions*:
(*The dimensions for this model can vary, depending on how the joints are positioned. The numbers given are for the figure in a 'neutral' standing pose without any accessories attached.)
7.5 cm/3.0 in. x 3.0 cm/1.2 in. (highest point x widest point)

Articulation:
Nineteen points total: Neck (2), waist, shoulders (2), elbows (4), wrists (2), hips (2), knees (4), and ankles (2).

Time:
Four days; construction ran from 10/25/07-10/29/07, with no work performed on the 26th.