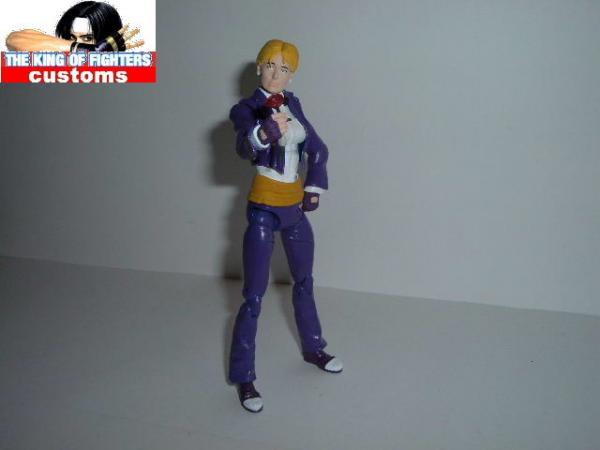 Here comes the next challenger. . . . King.
king is a playable character from snk's fighting video game series art of fighting,
capcom vs snk, and of course king of fighters.

king, bouncer and muay thai warrior that found out at a young age that regardless of skill, women would still considered inferior to men in true fighting tournaments. So she hid her beauty to join tournaments in the guise of a man and in doing so defeated a famous muay thai champ. She continued win tournaments, until in a street fight no less, her secret was revealed. Her crediblity as a fighter was destroyed and the "golden age of king" had come to an end. Shamed and in need of money to help her sick little brother, she became an enforcer for the southtown crimeboss mr. Big. Even though she knew she had fallen in with bad people it was the only place her skills still made her money. Her release from mr. Big came when king helped ryo and robert save a kidnapped yuri from big's clutchs. With mr. Big in jail, king was again without purpose and when robert paid the hospital bill to help king's brother recover his illness, king thought to use the blood money she had saved up during her time
with mr. Big to give some thing back to the tough streets of southtown. So she opened a bar that also doubled as a sanctuary for abused women. King was introduced to the world of king of fighters when "ninja girl" mai shiranui asked if she would join her all female team. Still feeling inadequate about being a woman fighter, she joined to show the world that women were the same if not better fighters than any man. A founding member of the gorgeous team whose ranks swelled to include such women fighters as yuri sakazaki, kasumi todoh, chizuru kagura, hinako shijou, li xiangfei, may lee, and blue mary. King who has have been in every tournament to date except 2002 and has become more free with showing her feminine side. With nothing to hide king can focus 100% on using her kun gek do a korean offshoot of muay thai to destroy opponents in the kof tournaments.

king was customized from a hml 2pk elektra upper body, hml x3 phoenix arms, dlx buffy lower body & legs, lotr eowyn head, other figure odds & ends, and sculpting.

customizer side note: here is my new king of fighters team for the month of march,
the gorgeous team featuring mai shiranui, king, and chizuru kagura. Women, women,
women for the month of march. Learned a lot in the scaling department such as it's just not about height, but also width that makes a figure look in scale. Because i endowed the mai figure it makes her seem so much more larger than the other two figures, even though she really is the smaller of the two (not counting angled pony tail). All in all i used a mixture of foam, rubber, sculting and figure parts for the clothes that came out a lot better than even i thought. I was disappointed with chizuru's thinness compared with the other two and try as i might to make her a little taller. With king, regardless of how many different shades of purple paint i used she still ended up looking shiny, after viewingthe end product i would have liked to make her 3 centimeter shorter and use a prettier head.
so see you soon with april's team.