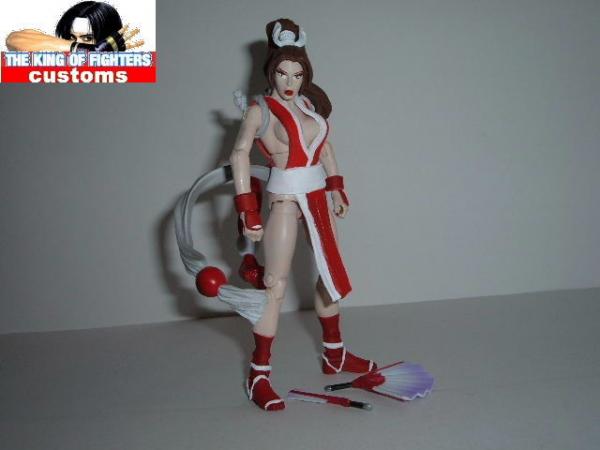 Here comes the next challenger. . . . Mai shiranui.
mai shiranui is a playable character from snk's fighting video game series fatal fury,real bout, capcom vs snk, and of course king of fighters.

mai shuranui so-called "modern day ninja girl" is the granddaughter of hanzo shiranui, master of the ancient art of ninjitsu. As a kunoichi and the last blood heir to the shiranui school, it's mai's duty to take ninjitsu out of the shadows and make it shine in this new millenium which is one of the reasons she has joined the king of fighters tournament the other reason was for the admiration and respect of andy bogart. The gorgeous fighters came about when mai realized she needed a 3 man (or woman. . In this case) team to join kof. So she scrambled across the snk universe to find strong women to fill the 2 spots and filling those spots were yuri sakazaki and king. Later tournaments still included the gorgeous team in many incarnations that included not only the founding members, but also swelled to include such characters such as kasumi todoh, chizuru kagura, hinako shijou, li xiangfei, may lee, and blue mary. Mai who has have been in every tournament to date has used her ninjitsu skill, female intellect, and curvious body to bring down even the toughest opponent in the kof tournaments.

mai shiranui was customized from a hml 2pk elektra upper body & arms,ml psylocke lower body & legs, x-men evolution storm head, parts from a mai shiranui mini statue, other figure odds & ends, and sculpting.

customizer side note: here is my new king of fighters team for the month of march,
the gorgeous team featuring mai shiranui, king, and chizuru kagura. Women, women,
women for the month of march. Learned a lot in the scaling department such as it's just not about height, but also width that makes a figure look in scale. Because i endowed the mai figure it makes her seem so much more larger than the other two figures, even though she really is the smaller of the two (not counting angled pony tail). All in all i used a mixture of foam, rubber, sculting and figure parts for the clothes that came out a lot better than even i thought. I was disappointed with chizuru's thinness compared with the other two and try as i might to make her a little taller. With king, regardless of how many different shades of purple paint i used she still ended up looking shiny, after viewing the end product i would have liked to make her 3 centimeter shorter and use a prettier head.
so see you soon with april's team.