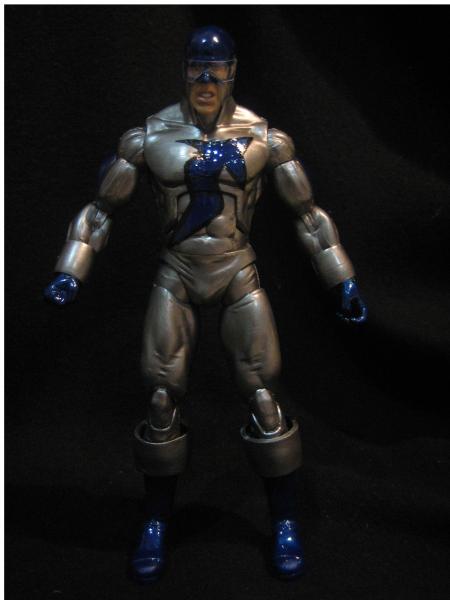 | | |
| --- | --- |
| Custom #: | 14172 |
| Name: | Supersonic |
| Custom Type: | Action Figure |
| Toy Series: | Astro City |
| Creator: | Crisco |
| Date Added: | April 21, 2009 |
| Base Figure: | WWE Deluxe MVP -Blue |
| Height: | 7.50 inches |
"Kids today, they think 'Supersonic' is a just a speed. Back in the 50's, it meant Jets, Strength, Power and the Future!"

As powerful as a jumbo jet and as swift as a military fighter plane, Supersonic battled America's enemies from 1958-1982, tackling mobsters, enemy agents, aliens and more, on Earth and beyond. He retired in the early 1980s, but reluctantly donned his costume once again in 2004 to save Astro City from a rampaging robot.

Status: Retired
Real Name: Dale Enright

Powers :
Supersonic Flight: As his superheroic name suggests, Enright is able to fly at extremely high speeds, attaining even supersonic velocities. He has used his incredible speed to produce a variety of effects, such as generating a "super-cyclone."

Superhuman Strength: In his prime, Supersonic once pushed Pluto back into its orbit. During his most recent exploit, he was capable of battering through a giant robot with his fists.

Increased Durability: Supersonic can endure incredible physical punishment and appears resistant to fire.

Regeneration: In 1966, Lady Lethal seemingly killed Supersonic, who suffered massive blood loss and extensive organ damage. Although clinically dead, Enright recovered while on the autopsy table.

Enhanced Senses: Supersonic can receive and hear radio and CB transmissions.
Abilities: In his prime, Enright was an incredibly creative tactician, able to concoct imaginative strategies to defeat his enemies. He is also a trained engineer and a hobbyist gardener.


Strength level: The extent of Supersonic's current strength is unknown, but he has been observed lifting objects weighing several tons.

As with all my Astro City customs, I used a WWE Deluxe figure for the base.
I base coated the figure in black, then bolt gun metal, then a clear blue.
I avoided paint rub by using a blue MVP upper torso - The shoulders are cast in a silver plastic, and the elbos in blue. I also watered down the silver paint and this avoided paint rub on the knees.

this was one of my Favourite Astro City Characters, his story is told in the Trade Paper Back Local Heroes.