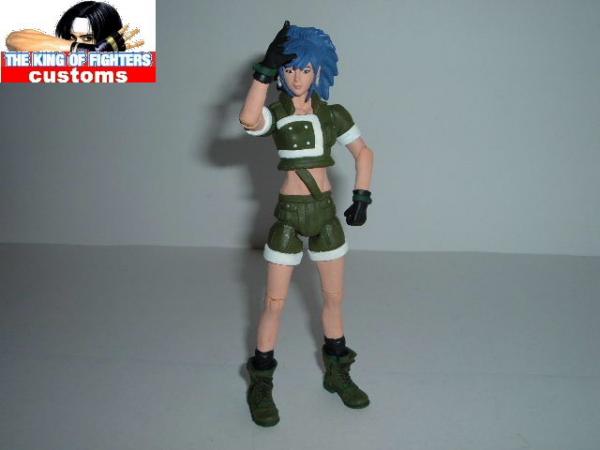 Here comes the next challenger. Leona heidern.
leona heidern is a playable character from snk's fighting video game series king of fighters.

the ikari mercenary leona heidern is the adopted daughter of head mercenary heidren. Leona became entangled in the world of mercenaries when at a young age when (unknown to her) her orochi blood awakened and in the dead of night she killed her entire tribe. With her memories wiped of that event by the orochi priest goenitz, she wandered aimlessly until she was found by heidren. Trained in the art of war by her foster father, leona's first main mission was to take heidren's place in the 1996 king of fighters tournament where she met goenitz once more. In the 1997 kof tournament both her and iori yagami, both desendants of the orochi bloodline went berserk and tried to kill the winners of that tournament. She had been in every kof from 1996 to 2003, the 2003 tournament is where she had gone berserk again and injured her teammates badly. Leona usually keeps to her self and is quiet and reserved, she usually only talks to the other members of her team which other than clark, ralf, and heidren also includes another girl called whip, but once an order is given she become a cold, calculating war machine that would do anything to complete her mission. Leona's fighting style is some martial arts, mixed with heidern style assassination techniques which allow her to use a wide array of weapons hidden on her body such as flashbang earrings, hairpins,and boots.

leona was customized from a hml marvel girl,other figure odds & ends, and sculpting.

customizer side note: here is my new king of fighters team for the month of april,
the ikari warriors team featuring leona heidren, clark still, and ralf jones. All in all i don't have much to say about this team as everything came together perfectly with the look and scale, well other than some lost arm articulation on ralf and clark because of the vest, but that couldn't be helped. I'd like to thank the fellow customizers who have looked and commented on my king of fighters line so far. May will be over before you know it, so see you soon with may's team.