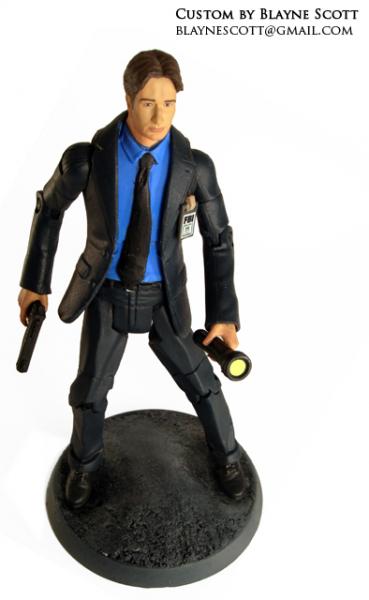 | | |
| --- | --- |
| Custom #: | 14764 |
| Name: | X-Files: Fox Mulder, FBI |
| Custom Type: | Action Figure |
| Toy Series: | X-Files |
| Creator: | blaynescott |
| Date Added: | May 18, 2009 |
| Base Figure: | MM Joker Goon |
| Height: | 5.50 inches |
Custom Fox Mulder using a MM Joker Goon as a base.

::Backstory:
Back when the X-Files was airing in the '90s, I wished some company would make a well articulated, 6" scale Fox Mulder. Luckily, McFarlane produced a 5"-ish scale figure (and Scully too) for the 1998 X-files film "Fight the Future".Unfortunately, both figures suffered from a sever case of McDonalds-toy leg: their lower body was cast as a single piece of plastic, with cut joint arms and elbows.

With the release of the Batman "Movie Masters" Joker Goon figure, I saw a chance to correct this oversight. :)

::Part List:
-ML Professor X (Jacket)
-MM Joker Goon (Body, minus the head/hands/jacket)
-McFarlane Agent Fox Mulder figure (Head, Hands, FBI ID Badge, Flashlight)
-DC Universe Deathstroke (Gun)
-ML Ronin Cape BAF Part (Tie)

::Design Process:
-I dremmeled out Mulder's head to fit the ball-pin Joker Goon base, and repainted the skin tone on both the face and neck.
-Sealed the neck with Krazyglue-superglue
-Heated/swapped the McFarlane Mulder Hands into the MM Joker Goon body
-Filled the 2 back holes in the Prof X Jacket with Citadel 'Green Stuff' (it's flexible when used in thin areas, great for patching jackets, or extending areas, and shaped it with my dremmel
-Cut a tie out of a fodder plastic cape (a Ronin BAF cape I wasn't using)
-Painted the suit jacket, arms, and pants Navy blue
-Painted the shirt (perhaps a little too vibrantly) a shade of indigo-blue
-Painted the tie and Shoes black
-Sealed the figure with Vallejo Matte finish varnish, and the Shoes with Glossy Citadel Varnish.

::Accessories:
-Since Mulder use to track serial killers before finding his 'true calling', I made use of a severed head that came with a Freddy 'Cinema of Horror' figure and a empty crate that a Megablocks Skeleton came in.
-Dremmeled off the top of the woman's already-severed head, and made it look like someone had removed her brain.
(Making this accessory was really, really disturbing. Not something I'd do again... *shudders*)
-Painted the padlocked crate with 4 different shades of red and reddish-brown, in addition to some sepia and flesh tone washes mixed with a watery Citadel Red Acrylic paint. (The same fake-blood trick I used with my Freddy Krugger: Sinestro Corp. Figure a while back)
-Painted the severed head, and added a bloody "7" to inside of the crate.

-Created Mulder's base-stand using a ML figure stand covered in hobby-plaster. Sanded it down once dry, painted it black, and then dry brushed 3 shades of gray-blue on to it.
-Sealed with Krazyglue-superglue, then with two coats of Vallejo Matte finish varnish for durability.

* I have an Agent Scully in the works, but I'm still looking for the right base figure that allows her to be in scale with Agent Mulder here.