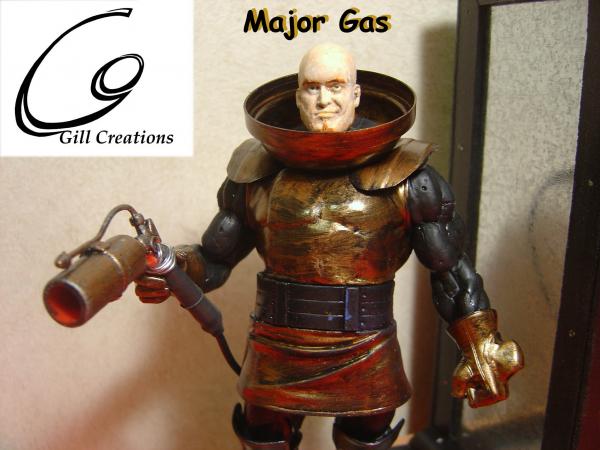 There is almost always a bad side that opposes every good. The good is Man-Buck, the bad is Major Gas. Unfortunately, a not-so-good organization, one Man-Buck had thwarted several times in the past, developed their own version of his energy armor and outfitted an angry ex-military man to wear it. He was dubbed Major Gas and, though his gas was not as natural as Man-Buck's, he became Man-Buck's nemesis.

Major Gas:
Darkseid base(wanted a thick body) with a WWE MVP head(that look on his face was great), re-sculpted face and head with Aves Fixit sculpt to look kind of balding Irish, created gas tanks on back with dowels, tin, and heat-shrink tube, the cowl is a candy machine toy globe, the armor on his shoulders is plastic from a water bottle, made the gun from a fire extinguisher that came with a TNA figure, attached the gun to the gas tanks with electrical wire, magnets stuck in feet, a complete re-paint with metallic bronze and flat acylics for arms, legs, face and belt, and a finish matte coating.

The bookends have a tin surface for magnetic adhesion, jean material so they won't scratch a shelf, a 2x4 base structure, and various adornments.