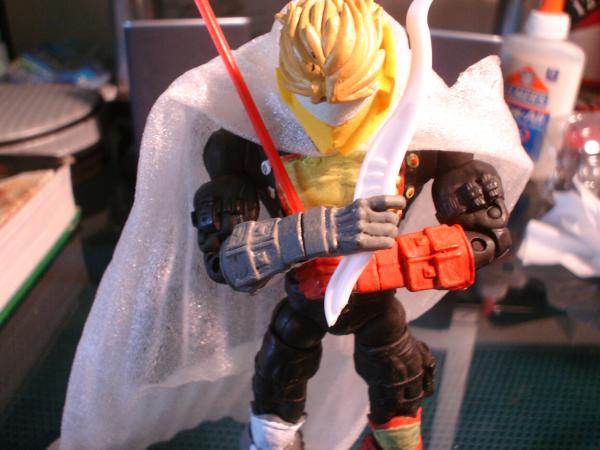 A normal pilot named Dak Son. He was on a mission when suddenly an eclipse came from the night sky. Dak was blinded by the sun peering from out the moon. They saw this blob of spectacle colors. It carried yellow, red, white, and grey. He did not know this was the Ecliptic Symbiote that was going to take over his body...

There he fell, 3,000 feet in the air...Suddenly a magnificent cape unfolded. The cape was made of a thin silk web, as he floated gracefully down. The Ecliptic Symbiote could not afford to lose the perfect host.

In battle Dak uses two blades. The Dark Crescent blade, and the Sun Pyro blade. Both a superior weapons of choice. The symbiote created a mask that is sleek for flight, but has characteristics of the dangerous mandibles of a spider.

The Ecliptic Spider struggles to keep his sides. He can be a hero, and also a villain, sometimes he is both at the same time. His split personalites are something to be weary of, he can back stab you, and engulf you into his crptic darkness.

Alright, hoped you liked that story...
He was made of an XMC HoM Wolverine with Judge Dredd forearms. The head is Madman, with SF Ken hair. Weapons are various, the mask is made of foam, and the cape is some cusion found when I was installing a sliding door in my house. He's not what I expecting to turn out, but hopefully I'll revise him later. Hope you enjoy...