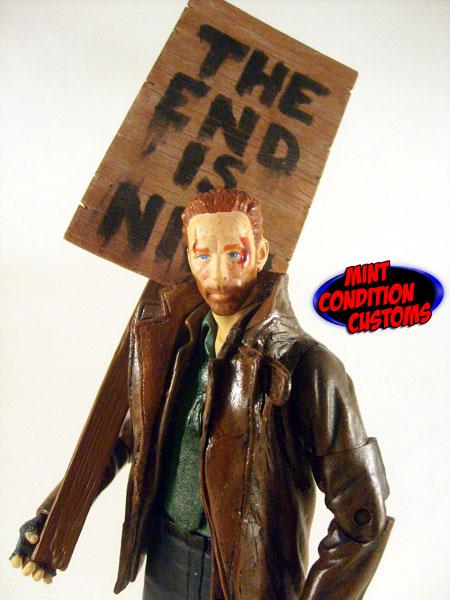 Movie Walter Kovacs - Created May 21, 2009

I may be finished with my series of 3.75 inch Watchmen figures, but my foray into the world of Watchmen isn't over yet. And with that I bring you a 6 inch custom Movie Walter Kovacs, completely in scale with the DC Direct Movie Watchmen Figures. He was made using an Angel Season 5 Wesley figure from Diamond Select as the body, and the head is from the Toys R' Us exclusive unmasked Rorschach figure.

The first thing I did was work on the head. I had to dremmel down the neck quite extensively and drill a hole up into the head to get it to fit onto the ball peg on the neck of Wesley. I also sculpted in some hair on the back of his head, because there was an indentation in his head from where it was placed on the original figure so it could fit against the coat collar. So I sculpted that in and painted it to match his hair color. Then I dirtied up his face (the original face looked way too clean...and not even any freckles!) by making his 5 o'clock shadow darker and by hand painting freckles all over his face. I painted a deep dark red over the blood already on his face to give the impression of old wounds. I figured that he had been murdering for so long that at any given time while he was walking the streets he may have been sporting some cuts and bruises.

Next I worked on the body. I cut the collar/lapel from a Spider-Man 2 Doctor Octopus figure, and glued it around the collar of the Jacket on the Wesley figure. I sculpted in some folds to blend it in, and I painted the whole jacket black, and dry-brushed some Testors leather over it.

Then I sculpted in some tiny detail around his fingers to give the look of frings coming off the ends of fingerless gloves, painted them black, and dry-brushed some grey over it. Next, I painted his shirt a lighter green than it already was, and cut out a tie shape from a sheet of foamies, glued it on, sculpted the knot and folds in the tie, and painted it black with a dry-brushing of a darker green than the shirt.

Next comes my favorite part about this custom...the sign. I made the sign he carries around all the time on the street. To do this I cut out a rectangle from a sheet of foam, and added nicks and chips all around the edges, used my hobby knife to add lines of wood grain all over the foam, and painted it. I first painted it with testors leather, then dry-brushed some grey and white all over it to make it look old and worn. Then I hand painted in the words "THE END IS NIGH" making sure to smear some of the letters to reflect the way it looked in the movie. After that I glued it onto a plank of wood that came with a Spider-Man 3 Hasbro Mary Jane figure and there ya go.

I even included his prison name plate that came with the original Rorschach figure. And there you have it. A movie Walter Kovacs complete with sign, that's the same size as the DC Direct movie Rorschach figure.